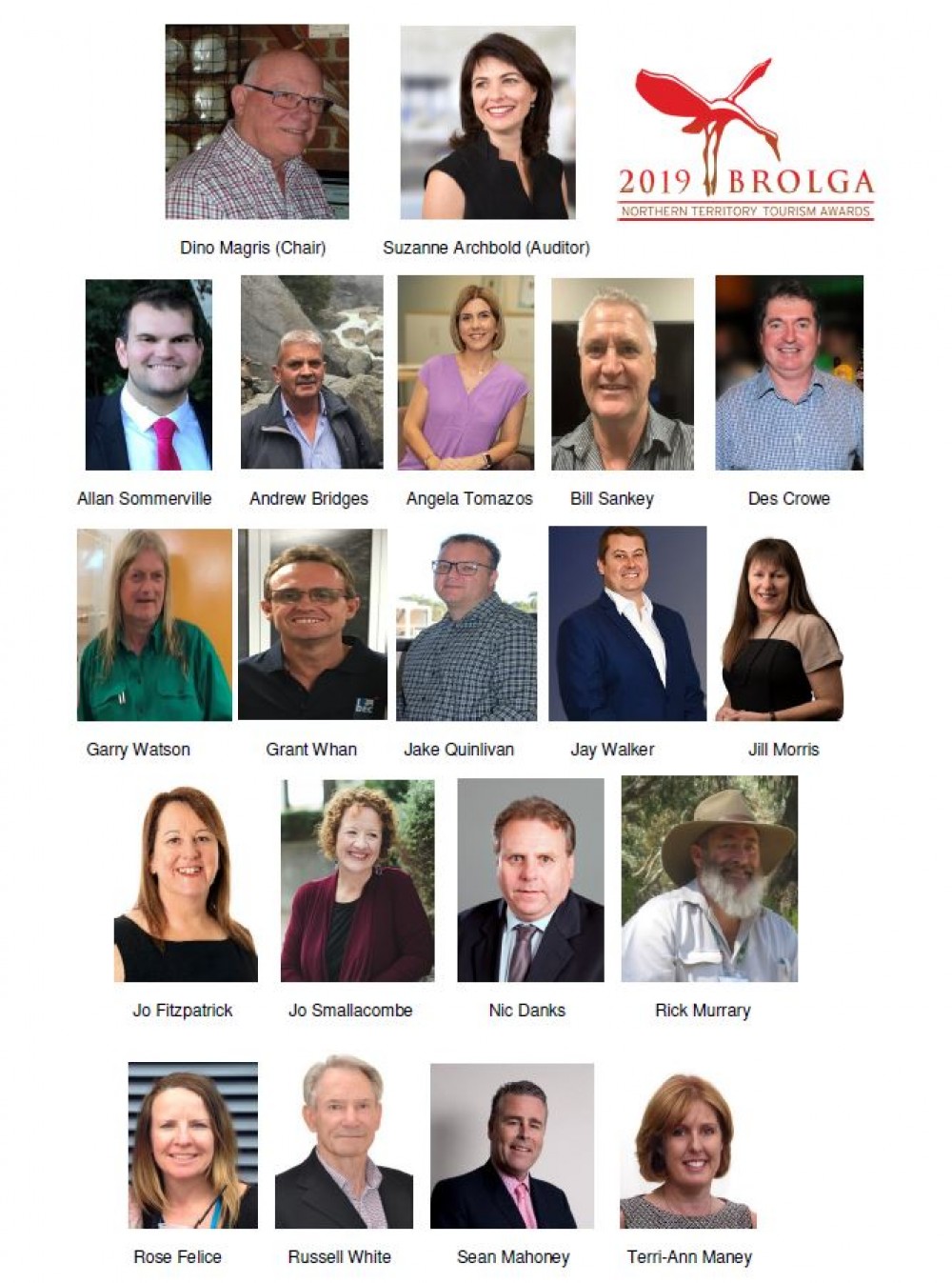 Judging is conducted by an independent panel of industry peers and business professionals.

Each judge is selected for their knowledge and experience and their willingness to volunteer and commit time to the non paid role of judge of the Brolga Northern Territory Tourism Award.

The selection process ensures that a broad range of industry is represented and that skills and expertise are complementary. The judging panel is reviewed each year and operates independently of Tourism NT.
Chair of Judges: Dino Magris
Dino Magris grew up and worked in the tourism and hospitality industry in Venice (Italy) before coming to Australia in 1968.
He holds a Bachelor of Business (Transport Economics) degree.  His 44-year career in touring operations in Australia has seen him hold the executive positions of Victorian and Tasmanian State Manager for Ansett Pioneer, General Manager – Australian Tourism for Australian Pacific Touring and also Executive Director of APT.
Dino is passionate about Australian tourism and is proud to be identified with the introduction and establishment of several of today's iconic touring products and experiences in the Northern territory, in the Kimberley and in Victoria.
He retired in 2012 after 31 years with APT and over 50 years in the tourism industry.
Auditor: Suzanne Archbold
Suzanne Archbold born, educated, employed and now raising her own young family in Darwin, Suzanne has experienced first-hand the ever changing dynamics of Darwin.  Suzanne's 20 years with chartered accounting firm Deloitte, where she is now a Partner, has given her the opportunity to provide business advisory and taxation services to local businesses that span a broad range of industries including the tourism and hospitality sector.  Amongst her may clients can be found a variety of hotels, tour operators, restaurants, cafes and indigenous businesses.
Suzanne has been the auditor of the Brolga Awards since 2014.
The judging panel for the 2019 Brolga Awards:
Allan Sommerville
Allan Sommerville currently holds the position of Airport Manager, Qantas Alice Springs as well as a board position with Tourism Central Australia and Chair of the Australian Institute of Management NT Regional Advisory Committee.
Allan is a long standing Territorian with ten years' experience in the Aviation industry in both commercial and operational roles as well as experience in running his own businesses in several different industries.
This is Allan's second year as a Brolga Awards judge.
Andrew Bridges
Andrew Bridges spent over 35 years working for the Parks and Wildlife Commission of the Northern Territory, including as CEO from 2012 to 2016.
During his career Andrew had a strong commitment to nature based tourism, and the role it plays in the Territory economy. He spent six years as the Northern Territory representative on the Tourism and Protected Areas Forum, and seven years as an Executive Committee member with Tourism Central Australia.
Now retired from full-time employment Andrew enjoys a bit more time to spend in the Territory outdoors with his camera.
This is Andrew's third year as a Brolga Awards judge.
Angela Tomazos
Angela is a born and bred Territorian with over 28 years in Banking & Finance. Currently the Managing Partner for NAB Regional & Agribusiness for the Northern Territory, Angela is passionate about enabling and empowering the entrepreneurial spirit in her home town.
2019 Telstra Northern Territory Business Women's Medium & Large Business Award winner.  Angela's experience is specifically in the fields of Leadership in Business and Specialised Banking including Development and Delivery of Strategy, Enhancing Market Presence, Risk Management and People Leadership and Direction.
Angela is currently Director of Policy and Vice President of the Australian Federation Business & Professional Women (BPW) and founding member and Chair of Hellenic Australia Chamber of Commerce & Industry (NT) Incorporated.
This is Angela's first year as a Brolga Awards judge.
Bill Sankey
Bill is Executive Director, Territory Engagement and Delivery with the NT Department of Trade, Business and Innovation.  Based in Alice Springs, he directs the Economic, Small Business and Workforce Development service delivery operations for the department across the Territory through offices in Nhulunbuy, Darwin, Katherine, Tennant Creek and Alice Springs.
Prior to joining the department and moving to the Northern Territory last October, Bill was working on various commercial and business development/feasibility projects in Toowoomba including CBD property development and major projects for Toowoomba Regional Council.  Before that he spent almost 10 years in various business development, marketing and government roles in the oil and gas sector including over seven years with a drilling and well servicing company with operations throughout Australia and in Brunei.   
Bill spent 20 years in the leisure industries including as a National Fitness Officer, Sport and Recreation Officer and a Regional Manager with the Queensland Department of Tourism, Sport and Racing.  A keen sports follower, Bill graduated first as a High School PE Teacher and has subsequently acquired a Master of Business Administration, Graduate Diploma in Management and Graduate Certificate in Professional Sales and is also a graduate from the Australian Institute of Company Directors.
This is Bill's first year as a Brolga Awards judge.
Des Crowe
Des Crowe is the current CEO of the Hospitality NT and has worked with the NT hospitality industry since his arrival in the NT in 1986.
Whilst residing mainly in the Darwin area, Des spent two years in Katherine and has worked extensively across regional NT.
Accommodation, food, beverage entertainment and tourism have been a constant feature in his work and he has had the opportunity to work with both NT and Federal tourism agencies and Ministers.
This is Des's fourth year as a Brolga Awards judge.
Garry Watson
Garry has been a key part of the National Capital Attractions Association and Canberra Region Tourism Awards (CRTA) for many years. After 10 years as Chair of Judges for the CRTA, in 2016 Garry was appointed the Chair of Judges for the Australian Tourism Awards concluding at the end of 2018. Garry was awarded the 2001 Outstanding Contribution by an Individual Award at the Canberra Region Tourism Awards and has recently been included as a Member in the Order of Australia (General Division) for his services to tourism.
Garry has been part of the ACT tourism sector for 30 years, and the Project Leader of the National Capital Educational Tourism Project (NCETP) since 1999. Under his leadership the NCETP has had a significant impact on the ACT tourism region with educational visitors injecting $140 million economic value to the ACT annually. Previous to this, Garry worked extensively in the ACT attractions sector including running visitor services and public programs at the National Film and Sound Archive and providing electoral education for the National Electoral Education Centre.
This is Garry's first year as a Brolga Awards judge.
Grant Whan
A born and raised Territorian, Grant has over 30 years tourism experience in Central Australia, including 22 years in commercial business management. He commenced his own tour operation in Alice Springs at the age of 19 and first became a member of Tourism CA in 1988, when it was known as the Alice Springs Regional Tourism Association. Grant has managed a number of key attractions in Central Australia which have included both the RFDS and School of the Air Visitor Centre`s. During this time Grant was successful in writing five winning Brolga submissions and took out the Chairman`s Choice Award in 2007.
For the last 9 years Grant has been employed in tourism business advisory and industry development roles, with Tourism NT as well as the Department of Business. He is now the Business Advisor for the Business Enterprise Centre NT (BECNT) servicing the Central Australian region, specialising in Tourism.
Grant was an elected Board member of Tourism CA from 2004 to 2010 and currently sits on the Board again after being re-elected in 2013 and is a member of the Chamber of Commerce NT, Regional Executive Committee.
This is Grant's second year as a Brolga Awards judge.
Jake Quinlivan
Jake Quinlivan has lived and worked throughout the Northern Territory for more than 15 years in Senior Management Positions with Community Governments, Shires and Regional Councils.
He is currently the Regional Executive Director, Big Rivers Region with the Northern Territory Government Department of the Chief Minister. Jake represents the NTG as a Director on the Katherine Regional Cultural Precinct Ltd, Nitmiluk National Park Joint Management Board and the MacArthur River Mine Community Benefits Trust and is the Chairperson of the Big Rivers Regional Coordination Committee.
This is Jake's first year as a Brolga Awards judge.
Jay Walker
Jennes "Jay" Walker is the Director of Regional Engagement and Development for Charles Darwin University.
Jay's family has connections with the pastoral and tourism industries that date back more than 30 years. Jay has had various roles in branch management and commercial banking throughout South Australian and the Northern Territory and was most recently the Central Australian Regional Manager for the Industry Capability Network.
This is Jay's first year as a Brolga Awards judge.
Jill Morris
Jill is an experienced marketing, communications, media and pr professional with a solid track record in the tourism and hospitality sectors. She has lived in the Territory for over 30 years and worked in a variety of senior and executive positions in both private enterprise and government organisations.
Jill is currently the Communications, Marketing and Media Manager, NT Airports working with Darwin, Alice Springs and Tennant Creek airports.
Prior to joining NT Airports, Jill was the Executive Manager Sales and Marketing at Skycity Darwin for eight years, overseeing all aspects of sales and marketing of the property including the hotel and resort, gaming, restaurants, bars, loyalty program, entertainment, sponsorship and media/pr.
Jill has a very genuine enthusiasm and passion for promoting tourism to the Northern Territory and is recognised as a passionate advocate for the Meetings and Events industry.
This is Jill's fourth year as a Brolga Awards judge.
Jo Fitzpatrick
Originally from South Australia, Jo came to the Northern Territory in January 2011.
With experience in the private and public sector, Jo has experienced a diverse range of leadership and management disciplines including customer service experience strategies and disciplines, sales and service skills coaching, strategic planning and management, client portfolio management and stakeholder engagement.
Jo worked for many years in the banking industry before accepting an opportunity in the public sector in 2016 which included a secondment as the CEO Darwin City & Retailers Association Inc.
Returning to the private sector in 2018 as the Regional Manager for Statewide Super, Jo continues to work closely with the business and not for profit community of NT.
A Fellow of the Institute of Managers and Leaders (IML), Jo sits on the IML NT Regional Committee and also on the Lord's Taverners NT Committee.
This is Jo's second year as a Brolga Awards Judge.
Jo Smallacombe
Jo Smallacombe is the Director of Activate Darwin, and an experienced marketing and communications professional. She has had more than 20 years' experience in corporate communications and marketing in the UK and Australia, including a period as General Manager Marketing at Tourism NT in 2017.
Jo is a long term Darwin resident and has travelled extensively. She holds a Bachelor of Arts (Journalism) and is currently leading work to revitalise Darwin city.
This is Jo's first year as a Brolga Awards judge.
Nic Danks
Nic is the Area General Manager for Telstra, accountable for maximising Telstra's presence and business performance within NT. This includes all Retail points of presence as well as the delivery of all local services for the region.
Originally from Adelaide, Nic spent six years in the Army and 34 years in retail, travelling extensively throughout Australia, living in most capital cities in Australia.
Nic has been a Brolga Awards judge since 2015 and was an Australian Tourism Awards judge for three years from 2016.
Rick Murray
Rick Murray, pioneered experience-based, minimal impact tours across the north of Australia with Odyssey Tours & Safaris, the award-winning company he established and developed into an industry leading operation.
He has been actively involved at the 'coal face' of nature based tourism for over 30 years and has a detailed knowledge of the interaction between tourism and our natural and cultural heritage.
Over the past three decades he has served on several tourism industry committees and Boards, particularly those focussed on issues affecting our natural and cultural environment and on the continual improvement of industry standards among tour operators and guides. He served as a member of the Advisory Board of Tourism NT from 2006 until 2011. He was Chairman of the Kakadu Tourism Consultative Committee and a member of the Kakadu National Park Board of Management from 2002 to 2016. He has been a Director of Ecotourism Australia Ltd since 2006 and is currently their Chairman.
Rick served for five years as a Director of the leading, aboriginal owned, tourism business, Nitmiluk Tours Pty Ltd, based in Katherine, NT. He was heavily involved in their joint-venture development of Cicada Lodge in Nitmiluk National Park.
Rick was awarded the Tourism Minister's Perpetual Trophy in 2018.
This is Rick's second year as a Brolga Awards judge.
Rose Felice
Rose has worked in various areas of the Travel & Tourism industry for over fifteen years, with a focus on commercial aviation both Domestic and International. Rose has led sales and marketing in a number of key markets across Australia. Currently, Rose is NT Sales Manager for Virgin Australia, following senior roles at Malaysia Airlines for 10 years.
Rose is passionate about promoting the NT and Australia in both traditional and non-traditional markets and is keen to support and drive participation and tourism activity and growth in the NT.
Rose originally came to the NT for 6 months in 2013, a common story for many locals, quickly fell in love with the Top End lifestyle.  Fast forward to 2019 and 6 years later the Top End is now home and she wouldn't have it any other way.
This is Rose's first year as a Brolga Awards judge.
Russell White
Russell founded inbound tour company ATS Pacific in 1980, and grew it over 25 years into a large regional business of over 300 staff, with offices in Australia, New Zealand and Fiji, and annual sales of $100m from a global client base of leading international tour operators. The company became an innovator in terms of Australian product development and tourism technology, and helped introduce many small and large local operators to the global markets.
Russell has a deep understanding of the challenges facing tourism business in becoming "export ready" and seeking to position themselves into international markets.
This is Russell's third year as a Brolga Awards Judge.
Sean Mahoney
Sean is the CEO of the International College of Advanced Education which offers courses in Hospitality, Cookery, Business and Management for International students. 
Until 2017 Sean was a National Board member for the peak body in the private education sector, Australian Council of Private Education and Training and is still active on the International Education subcommittee.
Sean has been a member of the International Business Council of the NT Chamber of Commerce and have been Chairman since 2005. Sean is a registered Migration Agent and provides visa advice and processing services to clients including students.
This is Sean's first year as a Brolga Awards judge.
Terri-Ann Maney GAICD
Terri-Ann is currently NT Manager- Members and Directors for the Australian Institute of Company Directors (AICD) NT and has built had extensive networks and experience in business–related fields with a career largely centred on adult education and organisational development.
It's the easy lifestyle, dynamic business environment, sense of community and can-do attitude of Territorians that has kept Terri-Ann living in the Territory since 1999.
Her experiences to date within the Northern Territory business sector has enabled Terri-Ann to build upon her already well developed extensive network of associates within Government, business, industry and community groups. Her role for AICD is focused on making a positive impact through governance education, director development and Advocacy. She is an active NFP Director and does so as a meaningful way of giving back to the Community and is currently non-executive director for St John Northern Territory and Chairman of the Business Enterprise Centre who provide assistance for start-up and small businesses. In 2016 she was recognised as a Finalist in the For Purpose and Social Enterprise Award Category for NT Telstra Business Women's Awards.
This is Terri-Ann's second year as a Brolga Awards judge.
Page last updated on 30 December 2019