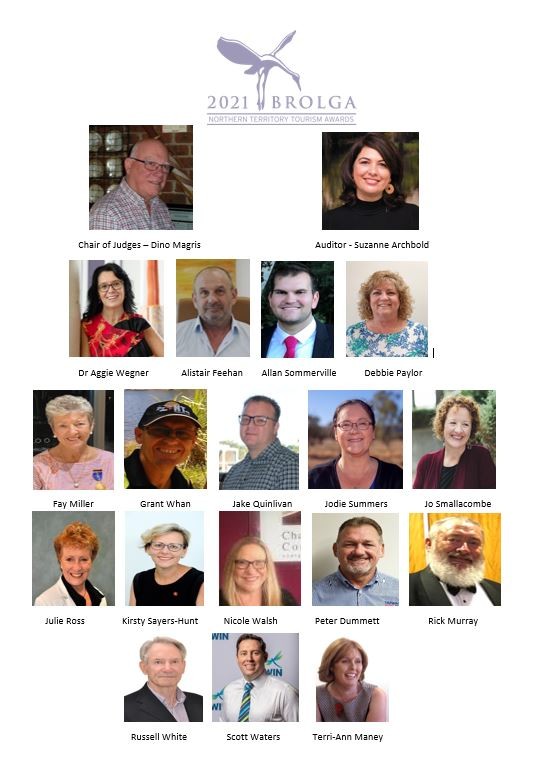 Judging is conducted by an independent panel of industry peers and business professionals.

Each judge is selected for their knowledge and experience and their willingness to volunteer and commit time to the non paid role of judge of the Brolga Northern Territory Tourism Award.

The selection process ensures that a broad range of industry is represented and that skills and expertise are complementary. The judging panel is reviewed each year and operates independently of Tourism NT. 
The Judging panel for the 2022 Brolga Awards is being finalised and will be announced at a later date.
2022 Chair of Judges Mr Dino Magris
Dino Magris grew up and worked in the tourism and hospitality industry in Venice (Italy) before coming to Australia in 1968.  His 44 year career in touring operations in Australia has seen him hold the executive positions of Victorian & Tasmanian State Manager for Ansett Pioneer, General Manager – Australian Touring for APT and Executive Director of APT.  Dino is passionate about Australian tourism and is proud to be identified with the introduction and establishment of several of today's iconic touring products in the Northern Territory.  Dino retired in 2012 after 31 years with APT and over 50 years in the tourism industry.
Auditor Ms Suzanne Archbold
Suzanne Archbold is the Managing Director of Advisory HQ Pty Ltd and has been the auditor of the Brolga Awards since 2014. Suzanne was born and raised in Darwin and has spent her professional career providing accounting, taxation and advisory services to her clients across the Northern Territory in all sectors including the tourism and hospitality sector.
Page last updated on 12 April 2022