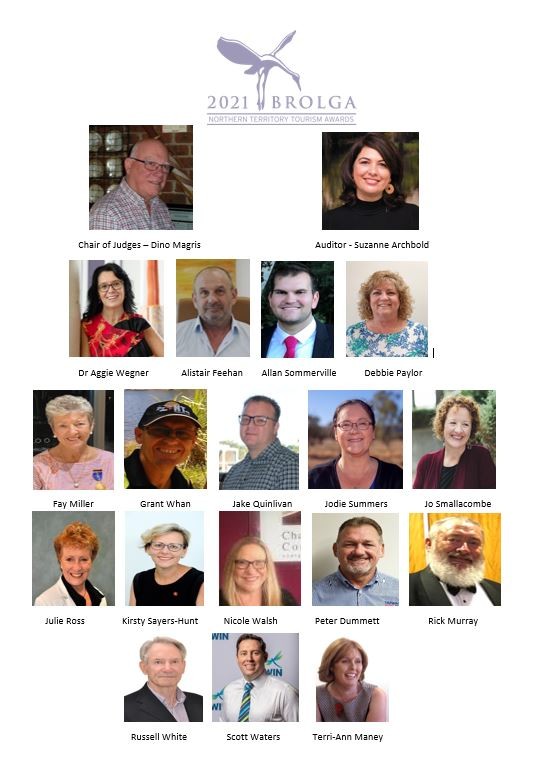 Judging is conducted by an independent panel of industry peers and business professionals.

Each judge is selected for their knowledge and experience and their willingness to volunteer and commit time to the non paid role of judge of the Brolga Northern Territory Tourism Award.

The selection process ensures that a broad range of industry is represented and that skills and expertise are complementary. The judging panel is reviewed each year and operates independently of Tourism NT. 
The 2021 Brolga Awards Judging Panel:
Chair of Judges Dino Magris
Dino Magris grew up and worked in the tourism and hospitality industry in Venice (Italy) before coming to Australia in 1968.  His 44 year career in touring operations in Australia has seen him hold the executive positions of Victorian & Tasmanian State Manager for Ansett Pioneer, General Manager – Australian Touring for APT and Executive Director of APT.  Dino is passionate about Australian tourism and is proud to be identified with the introduction and establishment of several of today's iconic touring products in the Northern Territory.  Dino retired in 2012 after 31 years with APT and over 50 years in the tourism industry.
Auditor Suzanne Archbold
Suzanne Archbold is the Managing Director of Advisory HQ Pty Ltd and has been the auditor of the Brolga Awards since 2014. Suzanne was born and raised in Darwin and has spent her professional career providing accounting, taxation and advisory services to her clients across the Northern Territory in all sectors including the tourism and hospitality sector.
Judging Panel

Dr Aggie Wegner
Dr Aggie Wegner can be described as an all-rounder bringing her tourism background, academic research and leadership and passion and expertise in environmental science to her current role as Senior Director Commercial and Community Partnerships in Parks and Wildlife at the NT Government. Aggie has helped to grow and develop the Director Community within the Northern Territory through her previous role as State Manager NT with the Australian Institute of Company Directors and more recently with Aboriginal organisations. Aggie has held a variety of board positions in the Territory including Government and not-for-profit sectors as a way of giving back to her community.

Alistair Feehan
Alistair Feehan has spent 18 years as the CEO of Imparja Television and sits on several Boards and is Chairman of NT Major Events Company. Passionate about the tourism sector, Alistair has great faith and admiration for Tourism NT and the benefits it continues to deliver for all of its stakeholders.

Allan Sommerville
Allan Sommerville currently holds the position of Airport Manager, Adelaide for Qantas. He has previously held various roles in the Northern Territory including the position of Airport Manager Alice Springs for Qantas, a board position with Tourism Central Australia and Chair of the Australian Institute of Management NT Regional Advisory Committee. Allan is a long standing Territorian with fourteen years' experience in the Aviation industry in both commercial and operational roles as well as experience in running his own businesses in several different industries.

Debbie Paylor
During her 30-year career Debbie Paylor has worked as a leader and manager within multiple industries. Debbie founded the start-up of four companies and merged them with two other businesses to create a national organisation with offices in five states and one Territory with 100 staff. Debbie joined the Industry Skills Advisory Council NT (ISACNT) as the General Manager in 2016 to establish the start-up and realignment of the former advisory bodies.  
Fay Miller
Fay Miller has been involved in the tourism industry in the Northern Territory since 1994. A proud recipient of a Brolga Award in 2011 for 'Outstanding Contribution by an Individual' and awarded a life membership of Tourism Top End in 2021 Fay brings her passion for the tourism industry to the judging panel. 
Grant Whan
A born and raised Territorian Grant Whan has over 30 years tourism experience in Central Australia, including 22 years in commercial business management. Grant commenced his own tour operation in Alice Springs at the age of 19 and first became a member of Tourism Central Australia in 1988, when it was known as the Alice Springs Regional Tourism Association. During this time Grant was successful in writing five winning Brolga submissions and took out the Chairman's Choice Award in 2007.  
For the last 8 years Grant has been employed in tourism business advisory and industry development roles and is currently the Business Advisor for the Business Enterprise Centre NT (BECNT) servicing the Central Australian region, specialising in tourism. 
Jake Quinlivan
Jake Quinlivan is currently based in Katherine and is a board member of both the Nitmiluk National Park Board and the Katherine Regional Cultural Precinct Board, two of the biggest tourism drivers in the region. Jake's diverse work history in the NT across two decades makes him one of the Territory's most valuable regional advocates with his extensive knowledge of people, place and culture.

Jo Smallacombe
Jo Smallacombe is the Director of Activate Darwin and an experienced marketing and communications professional. With more than 20 years' experience in corporate communications and marketing in the UK and Australia, including a period as General Manager Marketing at Tourism NT in 2017 Jo is a long term Darwin resident and has travelled extensively. She holds a Bachelor of Arts (Journalism) and is currently leading work to revitalise Darwin city.
Jodie Summers
Jodie Summers is a descendant of the Mamu people of the Innisfail region in Queensland and has lived in Alice Springs for 25 years. Life in the Northern Territory has offered a rewarding career in senior leadership positions across several industries including tourism and hospitality and the not-for-profit sector. Most recently Jodie has worked in local government and is now the Regional Operations Manager Central Australia for Charles Darwin University. 
Julie Ross
Julie Ross moved to Alice Springs in 1982 for a 12 month work contract, fell in love and stayed! A Director of long term Central Australian company Ross Engineering, Julie has previously judged both the NT Brolga Awards and the National Tourism Awards in the early 2000s.

Kirsty Sayers-Hunt
Kirsty Sayers-Hunt moved to the Northern Territory from the North West region of Western Australia (WA) in 2002 and has lived in the Darwin rural area for the past 12 years. In WA Kirsty worked for the Regional Tourism Association and also managed the Visitor Centre in Exmouth on the Ningaloo Reef. Kirsty has previously worked for her family's solar installation business, managed the Tourism Accreditation Program within Tourism NT and as a Senior Contract Manager for the Australian Government's Department of Employment and Workplace Relations. Currently employed in the electoral office for the Federal Member for Lingiari, Kirsty enjoys working closely with the community to address their concerns and provide assistance on a range of matters related to the Australian Government. 

Nicole Walsh
Nicole Walsh is the Chief Operating Officer for the NT Chamber of Commerce based in Alice Springs. An experienced Marketing Manager having previously been with the Yeperenye Shopping Centre for 13 years Nicole has a demonstrated history of working in marketing and advertising and is skilled in negotiation, budgeting, retail, advertising and event management. Nicole completed a Batchelor in Communication Management and a Master in Marketing at Deakin University.

Peter Dummett
Following a 20 year career in the Royal Australian Navy Peter Dummett has been engaged in management positions within the shipping industry in the Northern Territory. Peter joined Darwin Port in 2011 and is responsible for trade development, including the cruise sector, property management and client and stakeholder liaison. Peter has lived in the NT since 1987 and is currently General Manager Trade and Property at Darwin Port.

Rick Murray 
Rick Murray pioneered experience-based, minimal impact tours with Odyssey Safaris in 1988 and developed it into an industry leading operation. Rick has been actively involved in nature-based tourism for over 30 years and has a detailed knowledge of the interaction between tourism and our natural and cultural heritage. Rick has served on several boards including Tourism NT (2006 - 2011), Kakadu National Park (2002 to 2015) and Ecotourism Australia (2006 to 2019) where he also served as Chairman.  In 2018, Rick was awarded the NT Tourism Minister's Perpetual Trophy. 
Russell White
Russell White founded inbound tour company ATS Pacific in 1980, which over 25 years grew into a large regional business of over 300 staff, with offices in Australia, New Zealand and Fiji, and annual sales of $100m from a global client base of leading international tour operators. The company became an innovator in terms of Australian product development and tourism technology, and helped introduce many small and large local operators to the global markets. Russell has a deep understanding of the challenges facing tourism business in becoming 'export ready' and seeking to position themselves into international markets.
Scott Waters
A graduate of James Cook University School of Tourism, Scott's early career was within the Aviation and Travel industries in addition to formally heading up North Queensland's Tourism Destination Marketing and Convention Bureau. Currently Chief Executive Officer at the City of Darwin, Scott has a dynamic role heading up the Territory's largest local government, delivering services for the Darwin Community as well as visitors.
Terri-Ann Maney
Terri-Ann Maney GAICD has lived in the Territory for just over 20 years and has extensive experience across numerous sectors including education, business, not-for-profit, community based and Government organisations within the Northern Territory. Terri-Ann has a proven track record of working within member-based organisations. With qualifications across leadership, marketing and governance Terri-Ann has extensive networks and a respect within the business community that has seen her enjoy many successes. 
Page last updated on 21 September 2021