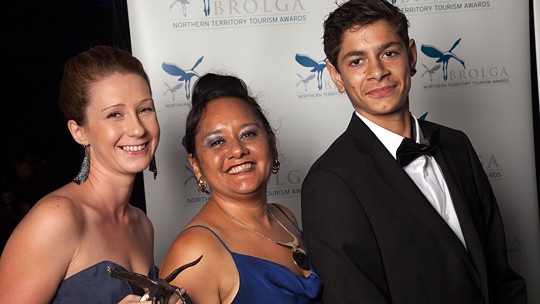 Photo: Nikki Allison (winner), Sheena Matthews (sponsor SKAL Darwin) and Chevez Kirkman (Highly Commended) - Young Achiever Award
Alice Springs Desert Park portrays a central desert environment that blends plants, birds, animals and the people of our arid regions within one, extraordinary tourism and conservation facility.
Uluru Camel Tours is an owner operated tour attraction based in the Red Centre that is home to over 55 working camels, making it Australia largest camel farm.
Festivals and Events - Yulara Outback Fest 2014
Uluru Outback Fest, now in its third year, is where you can feel the buzz of the outback markets, get caught up in the hype of the camel race, take part in the fashions on the field or dance at the 'Frock up and Rock up' post-race concert and ball.
Sea Darwin is an eco-certified marine based cruise company which offers year round interpretative experiences in Top End saltwater country. Developed by Darwin locals using a family based tourism model, its cruises focus on Darwin Harbour.
Venture North is a family owned tour company that holds a number of special entry permits giving it access into many restricted regions of the NT, including Arnhem Land and the Cobourg Peninsula.
Voyages Ayers Rock Resort lies in one of Australia's most remote destinations and offers a choice of accommodation and authentic indigenous visitor experiences catering to every taste and budget.
Darwin Holiday Apartments offer over 80 self-contained holiday homes from beachside to luxury penthouse, each unique, privately owned and providing an authentic "Darwin" holiday experience.
Visitor Information and Services - Tourism Top End
The Tourism Top End Visitor Information Centre has adventure specialists can help create an itinerary for any trip that best suits individual budgets and timeframes and a team of Territorians who really enjoy helping people.
Uluru Meeting Place, part of Voyages Ayers Rock Resort, is a the $38 million redevelopment that is enticing a growing domestic and international business events market since it opened in November 2012.
Major Tour and/or Transport Operator - AAT Kings
AAT Kings offers a wide range of Guided Holidays, Short Breaks and Day Tours across the Northern Territory. A highlight is their Uluru BBQ Dinner - a 'pop up' outdoor restaurant located inside the Uluru Kata Tjuta National Park.
Tourism Education and Training Charles Darwin University - Hospitality & Tourism Training
Charles Darwin University (CDU) has developed an action based learning model which has led to many achievements including hosting the regional Worldskills VET tourism competition and facilitating community based Indigenous employment programs.
BIG4 MacDonnell Range Holiday Park, the most awarded holiday park in the Northern Territory, has been providing the ultimate holiday experience in Alice Springs for 30 years and become famous for its pancake breakfast and hospitality.
The Bromeliad Bed and Breakfast was created in response to a family need but has grown to address the needs of a special niche group of travelers. The owners have modified their ground level home to have and even the swimming pool has a hydraulic lifter.
Cicada Lodge is a sanctuary from which to embrace the ancient landscapes and Indigenous culture of Nitmiluk,and is designed for the sophisticated traveller looking for an authentic Indigenous and natural Australian experience.
The Ibis Styles Katherine is an affordable 100 room hotel close to the central business district of Katherine and set on 4.5 hectares of tropical gardens.
Deluxe Accommodation - Lasseters
Lasseters Hotel is a 4½ star rated deluxe property adjacent to the Alice Springs Golf Course. It hosts almost 67,000 guests per year in 205 hotel rooms.
Outback Cycling launched its Bike Hire at Uluru operation in October 2013, one of the few tourism products for Uluru Kata Tjuta National Park in recent years. It has proved very popular with families and children.
Earth Sanctuary, 15 minutes south of Alice Springs, has been a leader in the field of sustainability in eco tourism for over 14 years. Its award winning and100% carbon neutral day and evening tours feature insights into ecology, culture and astronomy.
Darwin Fish Market is a multi-award winning business that sells Top End and Australian seafood only, all sourced from sustainable fisheries. It is a high end seafood service provider to restaurants, hotels, tourists and locals alike.
Special awards
George Dunne Award Outstanding Contribution by an Individual Debbie Turner – Youthshack & Chillis Backpackers Darwin
Debbie Turner of Youthshack & Chillis Backpackers Darwin is very well respected in the NT for her work with the youth market. She is always promoting Darwin and the Northern Territory as a whole while taking part in trade shows around the world, and has managed to entice many international travel agents to make Darwin their first port of call when planning any trips to Australia.
Debbie's passion and enthusiasm for the youth market in the Northern Territory is extremely contagious and is something she will continue to demonstrate in the years to come.
Young Achiever - Nikki Allison – Cicada Lodge
Nikki Allison has been General Manager of Cicada Lodge since April 2013. She was selected for the role from among a number of more experienced and older people based on her passion, commitment and knowledge of the Territory and her undeniable skills in the hospitality realm. Since then she has formed and managed the Cicada Lodge team and created a property offering that stands alone as one of the best in terms of service and customer delivery in the Northern Territory if not Australia.
Cicada Lodge has also won the AHA Gold Plate for Restaurant of the Year and the Brolga Award for Unique Accommodation.
Outstanding Interpretive Guide - Yuko Dalbello – AAT Kings
Yuko Dalbello has been working as a Japanese Language Guide at Ayers Rock Resort for 10 years. Yuko is committed to providing every Japanese visitor with a fabulous experience, delivering outstanding service and the very best information. Yuko shares her passion with new members of the AAT Kings team, who quickly learn to love, and aspire to replicate, Yuko's "no compromises" commitment to guest service. Having introduced more than 100,000 visitors to Uluru & Kata Tjuta, Yuko has made a considerable impact on tourism in the region.
Outstanding Contribution by an Employee - Joanne Walters – Beagle Motor Inn
Joanne Walters is the General Manager of the Beagle Motor Inn, Katherine. She has previously worked in high level client service areas with Qantas Airways and Lend Lease as well as holiday accommodation companies. She displays high levels of commitment, professionalism and drive and attends professional self-development programs. Joanne has contributed to the tourism industry by publishing a small handbook to assist owners and managers of small to medium motels market and improve customer service.
Tourism Ministers Perpetual Trophy - Jimmy Shu - restaurateur
Jimmy's Australian restaurants, like Hanuman in Darwin and Alice Springs, showcase his love of authentic Thai, Nonya, Malay and Indian food. He supports local growers of exotic produce to find markets and sponsors master chefs from India, Thailand and Malaysia to work in his restaurants.
The Darwin Explorer is a red double decker bus offering a 24 or 48 hour Hop on Hop off ticket which allows visitors to plan their own itinerary and visit all the well known landmarks in Darwin.
Sea Darwin is an eco-certified marine based cruise company which offers year round interpretative experiences in Top End saltwater country. Developed by Darwin locals using a family based tourism model, cruises focus on Darwin Harbour, its expanse, its history, its habitat and showcase the Bare Sand Island Turtles, uncaged in their world on their own terms.
The mission of Sea Darwin is to present the Top End's fascinating maritime history, its stunning wildlife, its cultural significance and its natural beauty and modern day intrigue, in a way that fosters sustainability and lasting connections with this unique part of Australia.
Crazy Acres Farm Shop is on a family run mango farm on 25 acres in Berry Springs and specialises in farm gate sales focussing on homemade ice cream, preserves, local products, cakes, and light meals.
Page last updated on 06 February 2020