Territory Tourism Voucher Round 4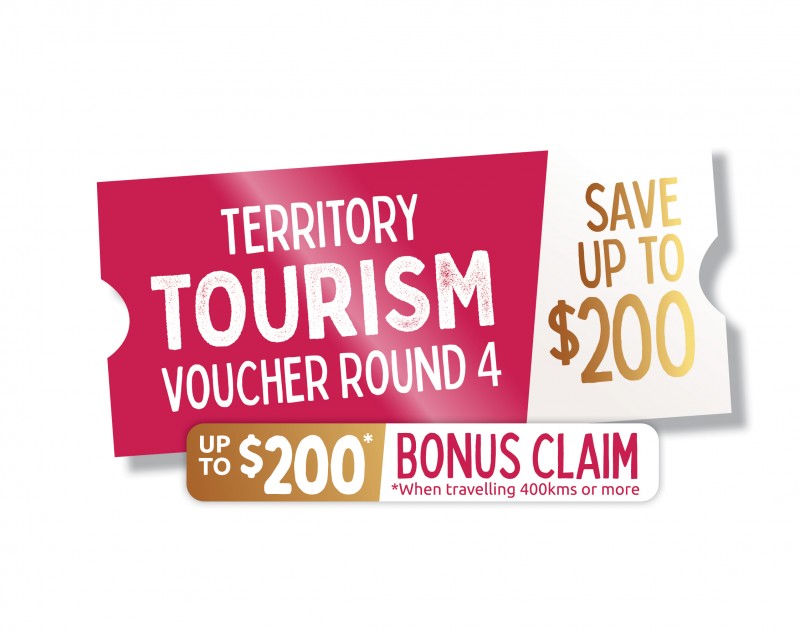 Territory Tourism Vouchers are back with Round 4 opening on 4 October 2021.
Valued up to $200, the vouchers are redeemable on a $1 for $1 basis and can be used on multiple tourism experiences in the Top End, Red Centre, Katherine and Barkly regions. 

Just like the previous Territory Tourism Voucher rounds, vouchers can be used on multiple tourism experiences, but only if they are booked in the one transaction with any unused funds returned to the funding pool for Territorians on the waitlist.

The Program
The Territory Tourism Voucher scheme offers Territorians aged 18+ a Territory Tourism Voucher worth up to $200 if they contribute $200 of their own money.
The voucher provides an incentive to support our struggling tourism industry and to experience our great Territory lifestyle by encouraging Territorians to purchase bookable tourism products.
To encourage bookings in all of our regions Territorians who travel a little further afield will once again be able to apply for an additional $200 bonus claim redeemable on a $1 for $1 basis for those who travel over 400 kms to the product booked as part of a single journey (not including their return leg).
** Program Update**

Due to the mandatory vaccination directives if you're a Territorian on the voucher waitlist you will be contacted via email to verify your voucher registration with your vaccination information. 

The waitlist is closed with vouchers rolling out to vaccinated waitlisted Territorians until funding for round 4 has been expended. 
Previous Rounds
Round 1 launched on 1 July 2020 - program complete.
Round 2 launched on 2 November 2020 at 8pm - program complete.
Round 3 launched on 1 February 2021 - program complete.
Downloads
Page last updated on 21 March 2023