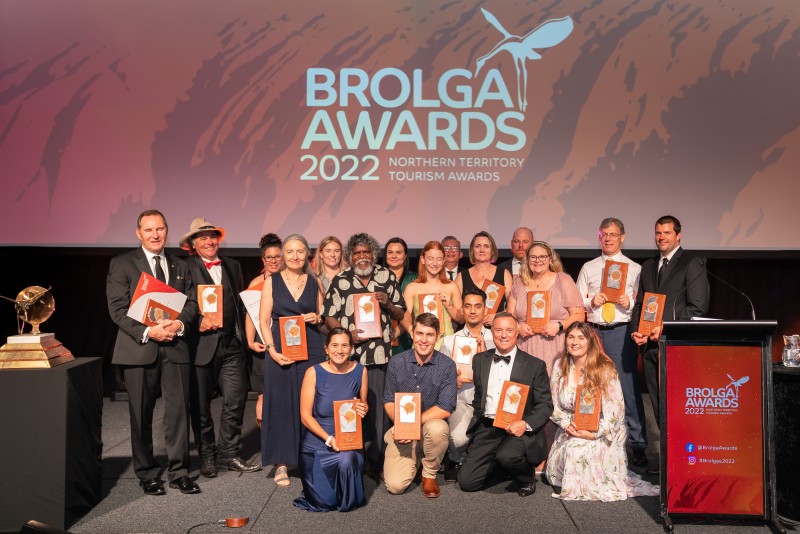 Congratulations to the winners of the 2022 Brolga Northern Territory Tourism Awards which were announced at a gala ceremony at the Alice Springs Convention Centre on Saturday 12th November.
Tourist Attractions - Katherine Outback Experience
Owned by multiple Golden Guitar winner and horseman extraordinaire, Tom Curtain, Katherine Outback Experience celebrates the Northern Territory's rich pastoral culture and history through real horse-starting and working dog demonstrations, entwined with live music and humorous bush tales. 
Major Festivals and Events - Darwin Festival
Darwin Festival is Australia's hottest winter arts festival, combining the quintessential spirit and energy of the Larrakia country with warm outdoor festivities and a vibrant program of events for an unforgettably good time. As festivals and events around the world were cancelled for a second year running, in 2021 Darwin Festival persevered, and with luck and lots of hard work delivered 14 (of 18) hot August nights of art and celebration.
Festivals and Events - Red Hot Arts Central Australia |Desert Festival
Desert Festival is Mparntwe/ Alice Springs' preeminent annual arts and cultural festival, run by Red Hot Arts Central Australia. It is held over 11 vibrant days in the tourism shoulder season of September each year, and celebrates all things arts and culture in the Red Centre. Over the past 21 years, Desert Festival has attracted people from all over to visit and explore Central Australia.
Ecotourism - Trek Larapinta
Trek Larapinta is a boutique trekking company that specialises in guided walking tours on the Larapinta Trail.  They think small is beautiful; being small they can focus on tour quality and sustainability, maintain strong local knowledge of the landscape and build meaningful connections within the community. 
Cultural Tourism - Venture North Safaris
Venture North Safaris offer guided micro-group 4 wheel drive safaris throughout the Top End. Catering to the higher end of the market and through strong relationships with Traditional Owners, they specialise in taking guests off the beaten track to experience remote Arnhem Land, in style. Venture North also operate 'Cobourg Coastal Camp' which offers an array of cultural and wilderness experiences, as well as world class fishing.
Aboriginal and Torres Strait Islander Tourism Experience - Angkerle Atwatye - Standley Chasm
Angkerle Atwatye - Standley Chasm is owned by the local community who are direct descendants of the Arrernte Aboriginal people that have lived in this area for tens of thousands of years. It provides a backdrop for authentic cultural exchange and personal growth through guided tours, cultural conversations, activities and training. They offer camping, exceptional food and local Aboriginal crafts.
Tourism Retail and Hire Services - Uluru Audio Guide
Uluru Audio Guide provides visitors to Uluru-Kata Tjuta National Park with an Australian first, GPS triggered audio commentary tailored specifically for a national park. The Uluru Audio Guide plays interpretative information in seven different languages about Uluru and Kata Tjuta as visitors walk, drive or ride around. The guide is perfect for those wanting to self-explore the region and learn what makes Central Australia so special.
Visitor Information Services - Tourism Top End
Tourism Top End provides complimentary, on-the-spot booking services for more than 550 members' products throughout the region including accommodation, tours and charters, attractions, fishing charters and vehicle hire. They offer a comprehensive information service from the Visitor Information Centre located on the corner of Bennett and Smith Streets in Darwin city.
Business Event Venues - Darwin Convention Centre
Darwin Convention Centre is a world-class business events venue and the centrepiece of the Darwin Waterfront Precinct. Since opening in 2008, the Centre and its team of professionals have built a reputation for delivering outstanding events, first-class food and excellent customer service.
Major Tour and Transport Operators - AAT Kings
A century's worth of exploration means AAT Kings offers exceptional knowledge of Australia and New Zealand. With a strong presence in the NT, AAT Kings is constantly looking for new ways to make every journey extraordinary – from dining next to Uluru, to immersing guests in the culture of Tiwi Islands and exploring the remote reaches of the West MacDonnell Ranges. 
Tour and Transport Operators - Uluru Camel Tours
With exceptional dune framed vistas of Uluru and Kata Tjuta, Uluru Camel Tours offers visitors a unique opportunity to experience the timeless landscape of the Australian Desert. Visitors retrace the path of early explorers as the camel's gentle meditative plod and sharp intelligence captivate guests during a bucket list experience they will not soon forget.
Adventure Tourism - World Expeditions | Australian Walking Holidays
World Expeditions motto, big adventures, small footprint, is also their travel promise. They are a world leader in sustainable walking holidays, offering multiple departures a week with 12 different itineraries on the Larapinta Trail utilising their four, multi award-winning exclusive eco-camps.
Tourism Marketing and Campaigns - Tourism Central Australia 'Get Out There in the Red Centre"
Tourism Central Australia, representing the tourism operators of the Red Centre, invited Australians to "Get Out There in the Red Centre". Their campaign was dedicated to showing a broader view of a holiday in Central Australia, presenting a destination where you can satisfy your passions and interests and feel like you've arrived in a different country, on a different planet even. A place where you will find the desert bursting to life.
Tourism Restaurants and Catering Services - Char Restaurant and The Darwin Club at Admiralty House
Char Restaurant and The Darwin Club at Admiralty House are two exciting culinary destinations at one incredible location. A go-to for foodies, locals and visitors alike, dining is enhanced by 1930s tropical architecture and newly refurbished interiors with garden views across Darwin Harbour. Both provide an exemplary dining experience, sourcing the best regional produce paired with an impressive wine list across two distinct menus. 
Tourism Wineries, Distilleries and Breweries - One Mile Brewery (NT)
One Mile Brewery (NT) is the pioneer of craft brewing in the Northern Territory. Established in 2012, they have successfully been 'turning water into beer' since then. They brew easy-drinking, craft products designed for a tropical climate and brimming with flavour. They have participated in significant Darwin events, including the 2022 Darwin Festival. 
Caravan and Holiday Parks - Oasis Tourist Park
Ben and Yaz Reichstein took a leap of faith out of secure professional jobs to become tourism business owners on 1st July 2019. In three years they have transformed the Oasis Tourist Park, creating a welcoming sanctuary for travellers to relax and connect in lush, secluded, shady and tropical surroundings. 
Unique Accommodation ¬- Mercure Kakadu Crocodile Hotel
The Mercure Kakadu Crocodile Hotel is undoubtedly one of the world's unique hotels. 'The Croc's' unique nature goes well beyond the architecture. The hotel's unique design was selected because of the crocodile's cultural significance to the Gagudju people. Ginga, the giant crocodile, is a spirit ancestor of the Gagudju people and the Mercure Kakadu Crocodile Hotel is part of the fully indigenous-owned Kakadu Tourism group.
3-3.5 Star Accommodation - Capitanos Darwin
Capitanos Darwin is a newly refurbished 3 Star hotel in the Darwin CBD. Offering a variety of studios all with kitchenettes including deluxe king, twin or family rooms. Located next door to the Darwin Entertainment Centre, they are perfectly positioned to meet value conscious travellers' needs.
4-4.5 Star Deluxe Accommodation - Rydges Palmerston
The 4.5 Star Rydges Palmerston has 200 rooms with an indigenous art theme throughout. This quality and recently renovated, high-performing hotel provides contemporary, comfortable accommodation with various room and bedding configurations. They offer exquisite food and beverages in their Asian-fusion Madame Za Restaurant.   
Tony Clementson New Tourism Business - Cyaround Australia Tours
Cyaround Australia Tours was established in 2021 by Jack Tanner and Storm Visser as a direct product of their collective passion for nature, travelling, exploring and the Northern Territory's true blue Australian culture. They facilitate small group, fully guided, off-road adventures, visiting the Territory's icons and infamous outback taverns.
NT only and individual categories
SKAL Tourism Industry Employee Award - Susan Silvester
Susan Silvester is an unsung champion of the NT tourism industry. Over almost 40 years in tourism in the NT she has worked in a variety of roles in Darwin, Uluru and in the last ten years as the Manager of the Alice Springs Visitor Information Centre. Susan's knowledge, relationships with industry, enthusiasm and commitment to our sector has never faulted and she is truly the Central Australia's ultimate ambassador.
George Dunne Award Outstanding Contribution by an Individual - Michael Scott
With a long standing commitment to the Northern Territory tourism industry, Mike Scott arrived into Australia as a sponsored chef back in 1986. Since then his 43 years hospitality and tourism experience has included holding positions with Tourism Top End, Central Australia Tourism Industry Association and Skal International, in addition to his many roles in hotel and hospitality general management across the Territory. Mike is referenced by his peers as a mentor, sharing his time, knowledge and humour with many.
Tourism Ministers Perpetual Trophy - Grant Hunt AM
Grant Hunt AM, one of Australia's leaders of nature based tourism and pioneer of best practices in sustainable tourism and travel, was honoured with the Tourism Minister's Perpetual Trophy. While managing Voyages Hotels and Resorts from 1996 – 2006, he developed Longitude 131 and The Lost Camel Hotel at Ayers Rock Resort and established the Mutitjulu Foundation.
Tourism Business Growth Award - Top Didj Cultural Experience and Art Gallery
At Top Didj Cultural Experience and Art Gallery visitors enjoy authentic aboriginal cultural experiences with Top End Aboriginal artist Manuel Pamkal. Visitors learn about aboriginal culture and the significance of his painting style, weapons used and how he lived off the land. The gallery sells authentic aboriginal art from artists across the Top End and also has a range of strong collections from the celebrated regions of Arnhem Land, the Kimberleys and the Central Western Desert.
Chairman's Choice for Tourism Excellence - Char Restaurant and The Darwin Club at Admiralty House (deemed the most outstanding entry in 2022) 
Char Restaurant and The Darwin Club at Admiralty House was deemed the most outstanding entry in 2022. Char Restaurant and The Darwin Club at Admiralty House are two exciting culinary destinations at one incredible location. A go-to for foodies, locals and visitors alike, dining is enhanced by 1930s tropical architecture and newly refurbished interiors with garden views across Darwin Harbour
Judges Highly Commended 
Aboriginal and Torres Strait Islander Tourism - Top Didj Cultural Experience and Art Gallery
Tour and Transport Services - Darwin Harbour Cruises
Adventure Tourism - Uluru Camel Tours
Caravan and Holiday Parks - Discovery Parks - Kings Canyon Holiday Park
Unique Accommodation - Outback Spirit Tours / Seven Spirit Bay
 
Page last updated on 14 November 2023