Aboriginal Tourism Grant Program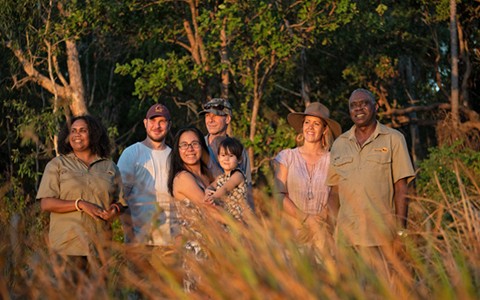 The Aboriginal Tourism Grant Program (ATGP) was primarily designed to support Aboriginal owned (greater than 50% Aboriginal owned) and operated tourism business enterprises.
Priority was given to projects that meet the activities or outcomes specified in the Northern Territory Aboriginal Tourism Strategy 2020-2030 and the Northern Territory's Tourism Industry Strategy 2030.
Successful projects generally met (but were not limited to) the following criteria:
Small infrastructure development upgrades which enhance the Aboriginal tourism offering;
Contributions towards planning documentation (i.e. business plan, feasibility plan, master plan); or
Interpretation development projects and activities (i.e. signage, interpretation plan, guiding manuals). 
ATGP Round 3 Grant Recipients
The projects that were allocated funding from ATGP Round 3 (excluding GST) were:  
Tiwi Designs Aboriginal Corporation – develop a foreshore access point as a feature landmark to welcome visitors to Tiwi Designs - $8,250
Tangentyere Council Aboriginal Corporation – upgrades to signage, storage and sales area for Tangentyere Artists Aboriginal Art Centre - $16,330
Injalak Arts & Crafts Aboriginal Corporation – develop vision statement, scope and design for Injalak Arts visitor site -  $18,182
Marissa Shadforth – install new bird hide, water supply and bathroom at camp no5 at Luwungunji Indigenous Camp Ground - $18,117
Iltja Ntjarra Aboriginal Corporation – enhance front entry with commissioned art work and murals for the Iltja Ntjarra Many Hands Art Centre - $19,991
Nyinyikay Dha Wuba Aboriginal Corporation – shed to store tourism assets during wet season - $19,850
Gundjeihmi Aboriginal Corporation – development of business plan for commencement of Djurrubu Rangers tourism product - $19,950
Miriam Rose Foundation Aboriginal Corporation – development of business plan for Dadirri Connection Tours - $16,020
Liya Wanhurr Aboriginal Corporation – improvements to signage and visitor information at the Dhalinybuy tourism experience - $18,095
Culture College Arnhem Land Aboriginal Corporation – develop a strategic business plan to grow cultural education market - $20,000
Patsy Evans– upgrade of camp facilities including new bathroom at Limmen River Fishing Camp - $18,180
Mabunji Aboriginal Resource Indigenous Corporation - install three new split system air conditioners at Waralungka Arts Centre in Borroloola - $8,300
Previous Successful Recipients
More information
For more information regarding the NT Aboriginal Tourism Strategy 2020-2030 or the NT Aboriginal tourism sector, please contact the team at [email protected] and 08 8999 7424.
Page last updated on 22 December 2021