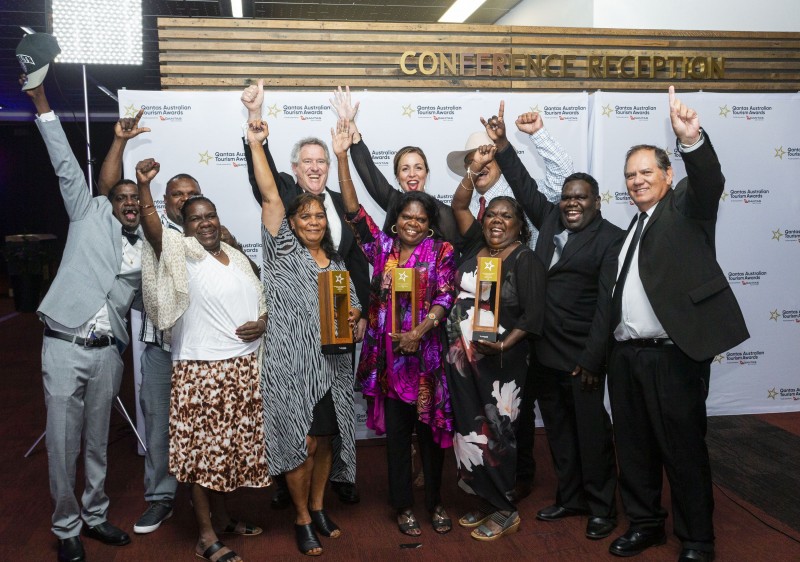 Congratulations to the NT winners from the Qantas Australian Tourism Awards which were announced at a gala ceremony in Canberra in March 2020.
GOLD - Cultural Tourism – Venture North Australia
Venture North Australia offers guided cultural and nature-based tours throughout the Top End and Kimberley regions of the Northern Territory. Specialising in off the beaten track and remote and hard to access regions, Venture North has developed exceptional relationships with Traditional Owners. This enables visitors to access Arnhem Land where local Indigenous guides lead every tour. Venture North operates the 'Cobourg Coastal Camp'; an eco-tourism camp on the Cobourg Peninsula, in northern Arnhem Land. This remote camp provides an award-winning array of cultural and wilderness experiences and world class fishing.
GOLD - Aboriginal Tourism – Nitmiluk Tours
Nitmiluk Tours is located in Australia's Top End of the Northern Territory, 300km south of Darwin. One of the very few 100% Indigenous owned tourism operations in Australia, Nitmiluk Tours shares a proud and proven record of Indigenous employment and training with authentic Indigenous culture showcased through every aspect of the operation. The traditional owners; the Jawoyn people, manage 2,900sq km where visitors enjoy adventure tours, cruises, cultural presentations, and scenic helicopter tours over Nitmiluk Gorge. Enriching this experience is unique accommodation, camping, fully equipped cabins, and the luxurious 18 room Cicada Lodge and gourmet restaurant.
GOLD - Tourism Restaurants and Catering Services – Cicada Lodge Restaurant
The multi-award winning Cicada Lodge Restaurant is one of Australia's most exciting food destinations. Located near the majestic deep water gorge in Nitmiluk National Park, Cicada Restaurant combines exceptional Australian food and wine experiences with world-class nature and wildlife. Visitors indulge in 5 star service on the Nabilil Dreaming Sunset Dinner Cruise against a backdrop of stunning scenic beauty. At Cicada's nightly chefs table, local and native ingredients showcase the unique provenance of the region. In 2019, a new river-side dining experience was developed for groups and a third sell-out regional food event; The Spirited Traveller was delivered.
GOLD - Luxury Accommodation – Cicada Lodge and Nitmiluk
Cicada Lodge delivers a luxury travel experience like no other! Anticipatory service staying in elegant, quality accommodation with unique access to the majesty of Nitmiluk Gorge and a truly authentic interaction with the unique indigenous culture. Located in Nitmiluk National Park, 300km south of Darwin, Cicada Lodge is 100% owned by the Jawoyn people ensuring an authenticity of experience that no other property of its kind can offer. Visitors have the chance to learn, feel, and explore in a setting that mixes luxury with relaxation and warmth, and the authenticity of experience that high-end travellers today seek.
BRONZE - Major Tourist Attraction – Nitmiluk National Park
Located in Australia's Top End of the Northern Territory, Nitmiluk National Park is located 300km south of Darwin. A timeless landscape rich in Jawoyn culture and unique natural features including ancient rock art, crystal swimming holes, tropical savannah and the majestic 13 gorge system through which the Katherine River flows. Nitmiluk attracts more than 263,000 visitors annually who enjoy award winning experiences; heli-touring to remote locations, canoeing and swimming in pristine waterfalls and cascades, boat cruises and dining, awe inspiring rock art and cultural tours, all set amongst one of Australia's most inspiring landscapes.
BRONZE - Deluxe Accommodation – Crowne Plaza Lasseters Alice Springs
Located in the Red Centre of Australia, the 4.5 star Crowne Plaza Alice Springs Lasseters enjoys picture-perfect surroundings beneath the stunning MacDonnell Ranges, alongside the banks of the Todd River, and adjoining the Alice Springs Golf Course. Featuring 205 deluxe rooms the hotel is surrounded by a range of entertainment options including two bars, three restaurants including Juicy Rump Bar and Grill, Tali featuring contemporary Australian cuisine, and Tempo an exclusive tapas, wine and cocktails bar. The hotel is complimented by an international standard casino, 24-hour health facility, Lavish beauty salon and day spa, all providing outstanding customer experiences.
Page last updated on 15 November 2021