The Territory is the answer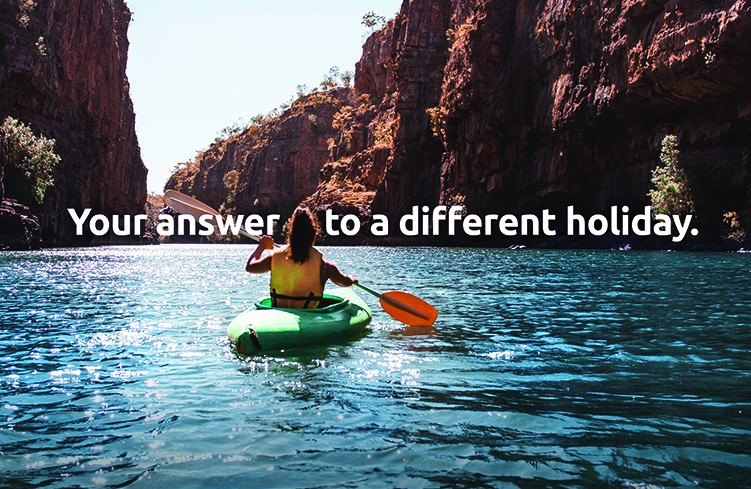 Tourism NT's newest campaign is The Territory is the answer. 

Australians have a lot of questions in this post-COVID environment: 
Where can I relax? 
Where can I go to be in the sun? 
What can replace my international trip? 
Where can I experience a different culture? 
What can I do that's different from my regular local holiday? 
The answer to all these questions and more is the Territory.
The campaign
Launched nationally on 21 June 2020, the campaign will run until October 2020 to entice Australians to stop dreaming and start booking their next holiday - in the Northern Territory! 

Capturing the essence of what the Territory has on display, the campaign highlights the freedom and flexibility the Territory provides through stunning landscapes, waterfalls and outback adventures, as well as traditional Aboriginal art and cultural experiences. The campaign showcases the abundance of the Territory's offerings, including adventure, escape and an opportunity to re-connect with travelling companions. 

A collection of humorous and quirky television and digital advertisements will use humour to capture the imagination of everyday Australians who are fed up with quarantine and are ready to bust out and explore the Northern Territory's unique landscapes, culture and experiences. 

The nationally targeted campaign focuses on the fly-drive and self-drive holidaymakers. The campaign will appear in all states and territories via television, print, digital, email marketing, out of home and radio advertising, a social media and media publicity campaign, and consumer activations. 
Get involved
Help us spread the word that The Territory is the answer.

It's in the Territory's interest to welcome back visitors with holiday offers and images of our wonderful experiences and products. If you are a Territory business or organisation in the arts, culture, hospitality or tourism sector you can:
Share the message on your social media using the hashtag #NTAustralia and tagging @NTAustralia

Play the promotional video in your business or organisation or add it to your website

Add a link to northernterritory.com/drive to your website. 
This campaign also supports the Different in Every Sense and Holiday Here this Year campaigns.
The Northern Territory consumer website has also been refreshed with new content including travel articles such as 12 of the NT's most inspiring Instagram accounts, why the NT is your next 'international' travel destination and new drive itineraries for Explorers Way, Nature's Way, Red Centre Way, Outback Way, Savannah Way, Binns Track, Arnhem Way and Greater Litchfield Loop.
Campaign partners
Tourism NT has partnered with Expedia Group including Wotif, Tripadvisor and Helloworld Travel to promote a range of packages for holiday makers. 

If you would like to have your product listed with these partners, simply contact the partner to find out how you can list with them and participate in their initiatives. Each partner has its own registration process so you will need to contact them directly.

To find out more about how to get involved, contact our partners directly: 
Helloworld Ltd - including Qantas Holidays
E: [email protected]
TripAdvisor
Katie McDougall, Senior Account Manager
E: [email protected]
Expedia, Wotif, Hotels.com
Zahabiya Doctor, Senior Destination Manager 
E: [email protected]

Accommodation providers and activity providers can also access detailed information online. 

Further travel deals will be supported by Apollo, THL (Britz/Maui), Let's Go Motorhomes, CIAA (NT Caravan Parks Association), Discovery Parks, Europcar and BIG4.
Page last updated on 14 July 2022