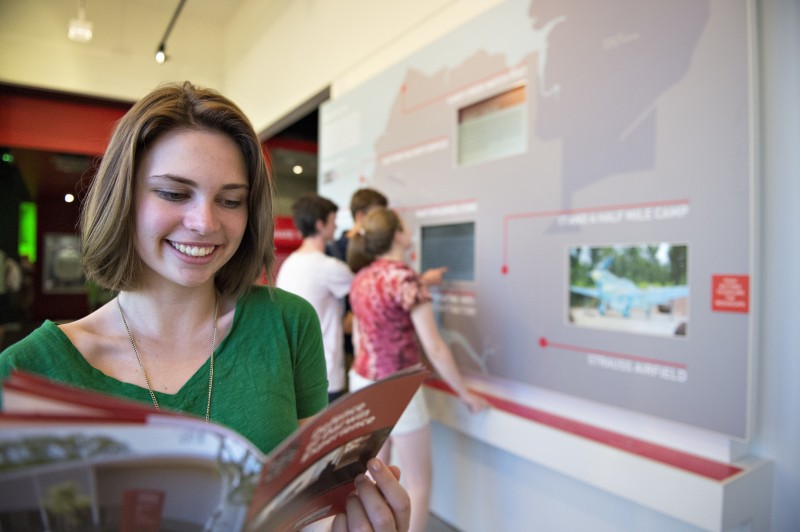 With contrasting landscapes and outstanding natural assets, the NT hosts a wide variety of inspiring, learning opportunities and experiences, making it an ideal destination to deliver on the needs of the education tourism sector.
StudyNT has compiled information on the value of international students in the NT in the latest 'International Student Snapshot'. For previous snapshots please see the Archive. A recent survey conducted by Tourism NT on international students provides insights into their travel consumer habits and propensity to undertake tourism experiences whilst studying. The survey also focusses on the ability and desire of international students for regional hospitality work.
The NT has strong links to a wide range of key learning areas in the Australian curriculum providing learning outcomes associated to the natural sciences, geography, history, humanities and social sciences, plus health and physical education. A market advantage also exists within the unique positioning of the NT to address the cross-curriculum priorities of sustainability, Aboriginal and Torres Strait Islander histories and culture, as well as Asia and Australia's engagement with Asia.
The interstate school excursion market is highly competitive and exhibits a range of complexities that distinguish it from the mainstream leisure and business travel markets. A strong, consistent commitment is needed from all stakeholders to achieve sustainable, high-quality results.
To support this sector, Tourism NT has worked with tourism operators, education agents, schools, and other stakeholders to create 'NT Learning Adventures (NTLA)'.
NTLA's core objective is to position the NT as the Australian school excursion learning destination of choice. It promotes NT tours and activities that align with the Australian curriculum, making it easier for teachers, educators and agents to choose the NT and select the best excursion options for their students and budget. 
Partner with NT Learning Adventures
Tourism NT is committed to developing a strong network of relevant educational products throughout the NT and are seeking to partner with NT operators who can service the distinct needs of the education sector.
Establishing long term relationships between schools, operators and the destination is key to increasing the NT's share of this market. It is vital that operators recognise each other in this market and work together to complement the whole of NT as an educational destination. NTLA facilitates these connections and provides its industry partners with a deeper understanding of how to work with the education sector. Some benefits include:
•    Access to key market insights
•    Preference for all activities associated with this sector
•    Educational workshops in line with market needs
•    Exposure through the NTLA website, ad-hoc brochure distribution and other promotional activities
•    Invitation to participate in targeted marketing opportunities
•    Details and advice on how to work with key external stakeholders and build commercial opportunities 
•    Networking opportunities to collaborate with other operators and industry stakeholders
•    Representation of your product/s to excursion organisers and agents in sector trade activities
•    Participation in research activities.
Education tourism rebate for schools
NT tourism operators that provide educational experiences are encouraged to promote the NTLA Save & Learn funding program as an incentive for schools to book and travel with their students to the NT.
The educational rebate is available to interstate schools who stay in the Northern Territory for a minimum of five nights and book with at least three NTLA operators. This incentive aims to attract more school excursions to the NT and grow this valuable sector.
For more details on the NTLA Save & Learn program, check out the full terms and conditions at ntlearningadventures.com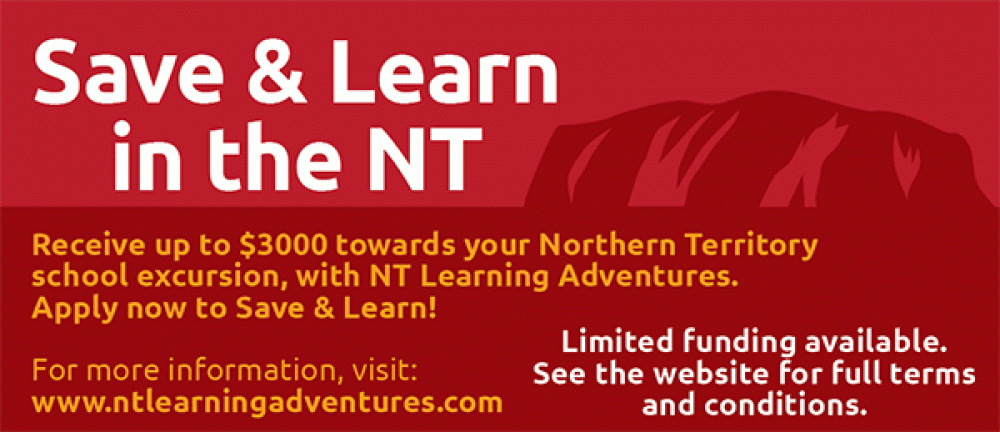 Find out more
For further information on working in the NT's education tourism sector contact Tourism NT's Sector Development Officer by email [email protected] or phone 08 8951 6415.
Page last updated on 02 June 2021