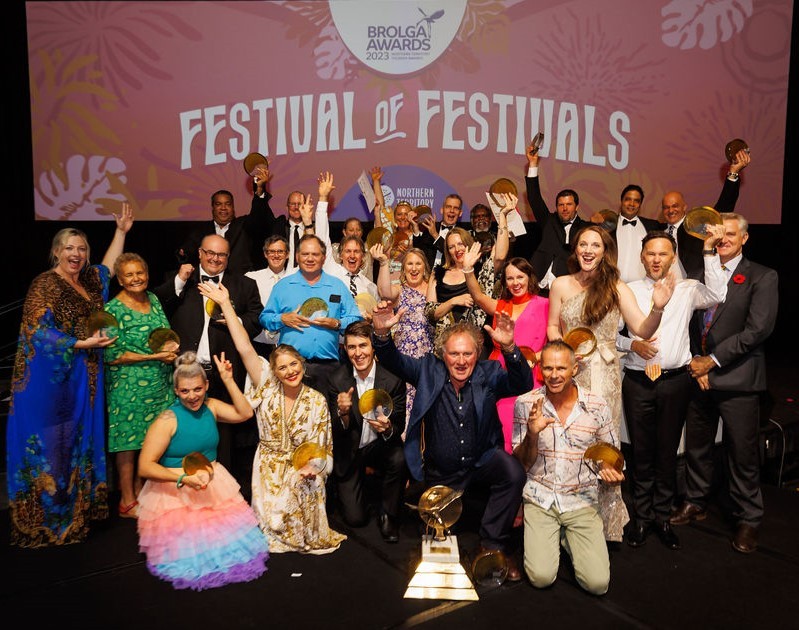 The Brolga Northern Territory Tourism Awards (Brolga Awards) are the official tourism awards program for the Northern Territory. The Brolga Awards recognise and encourage tourism businesses that strive for excellence in every area of their operation.
The Brolga Awards are open to tourism operators, industry suppliers and outstanding individuals, who prepare a submission in response to a series of questions and criteria that measure business excellence. Winning a Brolga Award is the industry's highest accolade, and the recipients represent the best products and services in the Northern Territory.
Throughout the Brolga Awards history, the diversity and calibre of entrants has matched the vitality and growing professionalism of the Northern Territory's tourism industry.
Winners of the Brolga Awards business categories (categories 1-26) represent the Northern Territory at the Australian Tourism Awards.
2023 winners
Congratulations to the winners of the 2023 Brolga Northern Territory Tourism Awards which were announced at a gala ceremony at the Darwin Convention Centre on Saturday 11 November 2023.
Major Tourist Attractions - Darwin Waterfront Corporation   
Darwin Waterfront is an iconic major tourism attraction located in the heart of Darwin. Attracting an average 800,000 visitors annually, the Waterfront centres on its primary asset; water. It features Darwin's first, and only, safe swimming saltwater recreation lagoon with man-made beach, a Wave Lagoon and Australia's largest Wibit Sport Park. The Waterfront is a vibrant hub for visitors and locals alike.
Tourist Attractions - Katherine Outback Experience     
Katherine Outback Experience is a renowned tourist attraction based in Katherine, which celebrates life on the land through real horse training and working dog demonstrations.  Their authentic and immersive experiences include an Outback Show, horse riding experiences, Stockman's Workshops and a Farm Therapy Program, with dining and camping packages targeted at specific markets. 
Major Festivals and Events - Darwin Festival 
Darwin Festival is an internationally celebrated arts and culture festival with a local spirit. Darwin Festival has evolved into a prominent arts festival with its diverse range of programming and experiences that captivates audiences from around the world while remaining deeply rooted in the community. With its international acclaim, drawing over 170,000 attendances in August 2022. 
Festivals and Events - Darwin Aboriginal Art Fair Foundation Ltd    
The Darwin Aboriginal Art Fair Foundation has a membership of 77 community indigenous art centres and peak bodies.  Their signature event is the Darwin Aboriginal Art Fair, which is the only national event of its kind and has secured a reputation as one of the country's most significant and internationally recognised arts event. The 2022 event set record in person attendance and sales figures with all proceeds going back to the art centres and artists.  
Ecotourism - Trek Larapinta     
Trek Larapinta is ecotourism. In every decision and action they take, ecotourism values are taken into account. From their guides to suppliers, they foster a genuine passion and practise for true sustainability. Offering small group tours with true connection to nature without removing nature from the experience, with the preservation, conservation and presentation of the Tjoritja National Park of key importance.
Cultural Tourism - SEIT Tours    
SEIT Tours provides interactive small group tours specialising in full immersion in the special places visited and opportunity to gain a true connection to culture. Their Patji Tour offers visitors to join the Traditional Uluru family at their homelands and experience their culture and family history. Visitors hear from the Traditional Owners themselves on how Paddy Uluru fought for Aboriginal lands rights to where Uluru is today. 
Aboriginal and Torres Strait Islander Tourism Experiences - Voyages Indigenous Tourism Australia – Wintjiri Wiru    
Voyages Indigenous Tourism Australia has a commitment to social responsibility, all profits go towards improving Ayers Rock Resort facilities and supporting Indigenous training and employment. Wintjiri Wiru launched May 2023 and represents a true partnership with the Anangu to bring their chapter of the ancestral Mala story to life. Using ground breaking technology, over 1,000 drones fly each night with Uluru as the backdrop, bringing ancient stories to a brand-new audience. 
Tourism Retail, Hire and Services - Uluru Audio Guide    
Uluru Audio Guide provides one-of-a-kind services in the form of GPS triggered audio guide hire service, to visitors of Uluru-Kata Tjuta National Park. Uluru Audio Guide is available in seven different languages and allows guests who may not speak English or not joined a guided tour to connect with world heritage listed Uluru.
Visitor Information Services - Tourism Central Australia    
Tourism Central Australia is the peak regional tourism organisation representing Central Australia and the Barkly region.  The organisation has a membership of just under 400 tourism businesses and organisations. They manage two fully accredited visitor information centres - one located in Alice Springs and the second in Tennant Creek offering a comprehensive information service.
Business Event Venues - Darwin Convention Centre   
Darwin Convention Centre is a world-class business events venue and the centrepiece of the Darwin Waterfront Precinct. With some 23,000 square metres of space, the Centre hosts hundreds of business events every year and offers delegates space to think, opportunities to learn and time to network. Since opening in 2008, they have built a reputation for delivering outstanding events, first-class food and excellent customer service.
Major Tour and Transport Operators - AAT Kings    
AAT Kings has been operating for over 100 years. AAT Kings is a market leader in the Northern Territory with a diverse range of tours from day tours, short breaks and guided holidays. They cater from budget to high value tours, all with a focus on culturally rich and sustainable travel. Currently AAT Kings operates more than 90 tours throughout the NT.
Tour and Transport Operators - NT Bird Specialists    
NT Bird Specialists are the Northern Territory's leading special-interest birdwatching, wildlife and photographic tour operator. Their multi-award-winning team have been creating epic safaris, workshops and niche events since 2014. Personalised charters and extended small-group tours are professionally led by renowned Australian bird guide Luke Paterson. Guest participation supports habitat conservation, as well as remote Aboriginal businesses and regional communities, while raising the significance of birdlife throughout the Northern Territory.
Adventure Tourism - World Expeditions | Australian Walking Holidays
Since their inception, World Expeditions, Australian Walking Holidays have practiced a simple philosophy; to provide high quality adventure holidays for small groups of like-minded travellers, with a strong alignment to responsible tourism practice and a commitment to supporting local communities at every level of their operation.  In 1995 they pioneered commercial walking holidays on the Larapinta Trail and today assist over 1,500 guests each year to experience the wondrous adventure that is the Larapinta.
Tourism Restaurants and Catering Services - Nitmiluk Tours and Cicada Lodge    
Cicada Lodge Restaurant located alongside the ancient gorge system at Nitmiluk National Park, combines exceptional Australian food, wine and spirit experiences with world-class nature and wildlife. At Cicada's nightly Chef's Table, local and native ingredients showcase the unique provenance of the region. The Nabilil Dreaming Sunset Dinner Cruise provides a five-star dinner service set against a backdrop of the stunning scenic beauty of Nitmiluk Gorge. 
Tourism Wineries, Distilleries and Breweries - One Mile Brewery (NT)
One Mile Brewery has a mission is to deliver easy drinking craft beer designed for the Darwin climate, brimming with flavour. The vision held by the brewery is to build a state-wide, national, and international reputation for fresh, flavourful Darwin beer.
Caravan and Holiday Parks - Oasis Tourist Park    
Oasis Tourist Park is a local family-owned holiday park. They offer a welcoming sanctuary for travellers to relax and connect in lush, secluded and tropical surroundings. The friendly park features tropical gardens, shady sites, modern facilities, a resort pool and various cabin options.  They are a great base to explore Litchfield and Kakadu national parks, whilst being only 20 minutes' drive to Darwin. 
Unique Accommodation - Gorge View Bush Retreat    
Gorge View Bush Retreat is a family owned glamping destination with an emphasis on authentic outback hospitality. Located 16 kilometres from Katherine on route to Nitmiluk National Park. They offer glamping and safari tented accommodation and unpowered camping sites.  Their captivating sunset deck is a perfect place for their guests to unwind and connect with fellow travellers while enjoying the breathtaking views.
3 - 3.5 Star Accommodation - Contour Hotel
Contour Hotel is a three and half star, 100 room hotel located in Katherine. Offering contemporary, comfortable accommodation, a range of indoor and outdoor venues including a large pool set amongst attractive, lush gardens. The award-winning Contour Restaurant offers exquisite food and beverages. Their boardroom is fully appointed with the latest technology and they cater for meetings, conferences and special events.
4 - 4.5 Star Deluxe Accommodation - H on Mitchell Apartment Hotel    
H on Mitchell Apartment Hotel is a premier four star, 180 apartment hotel in the heart of the Darwin CBD. H on Mitchell is a Darwin owned company committed to supporting local businesses, and does this through showcasing artwork from local artists throughout the hotel. They offer accommodation to suit all travellers from studios to one or two bedroom apartments. The hotel offers guests the award winning Lizards Bar and Restaurant.
5 Star Luxury Accommodation - Hilton Darwin
Hilton Darwin is a modern hotel providing exceptional experiences to guests, exemplifying the five star luxury accommodation. With a prime location and impeccable service, they continuously delight their guests. Sustainability, community partnerships, and cultural enrichment further distinguish their luxury offerings. 
New Tourism Business - Art Tours of Australia    
A solo hike along the Larapinta Trail with a backpack filled with paints ignited Anna Dakin's vision of sharing similar experiences. On graduating art school, Anna relocated to Central Australia where she spent five years honing her tourism skills, launching Art Tours of Australia in 2022. The venture has since hosted guests on diverse creative escapades - from multi-day camping trips to "en-plein-air" watercolour classes. 
Excellence in Accessible Tourism - Katherine Outback Experience
Katherine Outback Experience takes immense pride in their commitment to accommodating people with disabilities and specific needs. Their inclusive approach is evident in their accessible facilities, empathetic staff, and tailored experiences. They are delighted to have developed a transformative Farm Therapy Program dedicated to those with special needs. Accessibility and inclusiveness underpin decisions, guiding the design and development of new and existing services and experiences with the aim to ensure that every guest feels valued and included.

NT only and individual categories
Northern Territory People Choice Tripadvisor / Shiji ReviewPro Award - Top Didj Cultural Experience and Art Gallery 
At Top Didj Cultural Experience and Art Gallery visitors enjoy authentic Aboriginal cultural experiences with Top End Aboriginal artist Manuel Pamkal. Visitors learn about Aboriginal culture, weapons used and the significance of his Rarrk or cross hatching painting style. Visitors get to paint their own postcard size painting, light a fire and throw a spear using a woomera.  Top Didj's owner is a wildlife carer and provides visitors the opportunity to hold a joey wallaby.
Industry Employee Award - Dimitrios Georgakis
Dimitrios Georgakis – known as Jimmy – is enthusiastically recognised by his peers as the heart and soul of H on Mitchell's guest relations. Exceptional customer service from connecting guests with tours and events, problem solving, and sharing local knowledge not only reflect in guest reviews but ultimately drive revenue. His dedication and enthusiasm for the industry extends to community outreach programs and supporting the development of staff new to the industry.
George Dunne Award Outstanding Contribution by an Individual - Matt Mulga    
Better known as Mulga, Matt Mulga arrived in the Territory on a Greyhound bus in the late 90s and began working as a tour guide for Heading Bush. After a few years he bought his own troop carrier and began Mulgas Adventures across the Red Centre. In 1999 he transformed a motel in Alice Springs into Annie's Place, a funky hostel and delivered the 3 day Mulga Rock Trip. A sometimes unconventional figure in the industry, Mulga has created a range of hospitality venues from Monte's Lounge in Alice to Lola's Pergola and the eclectic hub of the Air Raid Arcade in Darwin.
Tourism Business Growth Award - Snapper Rocks
Snapper Rocks located at the Darwin Waterfront was established in 2019 by acclaimed Darwin restaurateurs, David and Kellie Robinson. Dedicated to showcasing local and native produce and being equal part restaurant, bar and distillery, they offer a unique experience. They bring the taste of the NT from outstanding locally wild caught seafood, to unique internationally awarded botanical spirits that are distilled in-house. 
Chair's Choice for Tourism Excellence - Voyages Indigenous Tourism Australia – Wintijiri Wiru
Wintjiri Wiru launched May 2023 and represents a true partnership with the Anangu to bring their chapter of the ancestral Mala story to life. An iconic new product for not only Central Australia but for the NT and Australia. Wintjiri Wiru is a demonstration of the use of the latest technology, while bringing together the world's newest and oldest knowledge. 
Tourism Minister's Perpetual Trophy – Sab Lord and Ann-Maree Grant
Mr Sab Lord and Ms Ann-Maree Grant owners of Lords Kakadu and Arnhem Land Safaris are the joint recipients, honoured with the Tourism Minister's Perpetual Trophy.  Sab has run tours for over 25 years and is one of the legendary guides/tour operators working across the region and amongst the pioneers of tourism in Kakadu National Park. His unique experiences, relationships and understanding of land and culture make Mr Lord a highly sought after guide for the region, with reviews highlighting the knowledge and stories he imparts. Ms Grant has worked in tourism for over 30 years and works tirelessly behind the scenes of Lords Safaris.
Further details and assistance
Contact the Brolga Awards team on:
Email [email protected] 
Phone 08 8999 3808

Official photos of the evening are available on Brolga Awards Facebook.
Page last updated on 13 November 2023