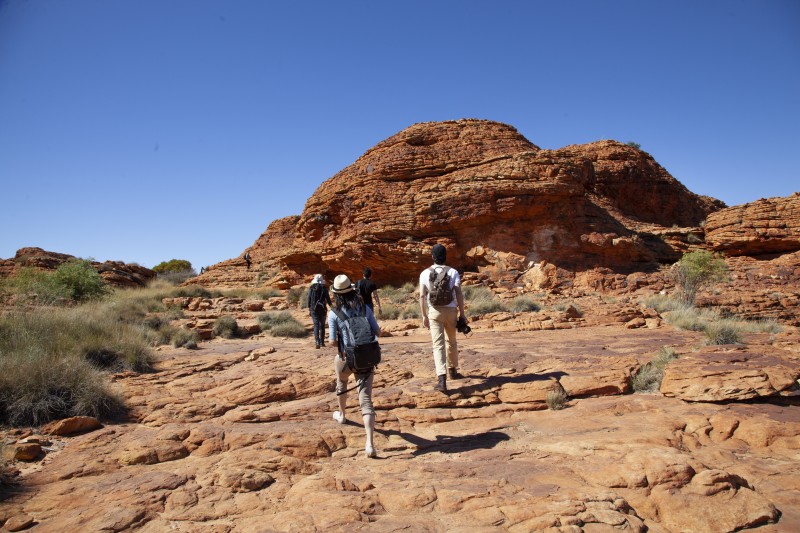 The Lasseter Destination Management Plan (DMP) identifies key strengths and assets across the region. The plan considers visitation demand insights, existing planning and priorities for destinations in the region and stakeholder input. Actions have been identified to activate opportunities, address gaps and prioritise product development seeking to meet visitor demand while encouraging the development of a sustainable tourism sector for the region.
The Lasseter region is located south of Alice Springs, extending to the South Australian border and stretching across the width of the Northern Territory, from the Queensland and Western Australia borders. The region includes the World Heritage listed Uluru-Kata Tjuta National Park and Watarrka National Park, the location of the famous landmark Kings Canyon.
The region is an iconic travel destination and has opportunities to further develop the range of experiences available to travellers, as well as enhance travel connections and experiences between the neighbouring region of Alice Springs and MacDonnell Ranges.
Comparative advantages of the region include:
•    Uluru-Kata Tjuta National Park and Watarraka National Park, both domestically and internationally renowned
•    the high quality Aboriginal cultural attractions available
•    the pioneering heritage of the region
•    the sense of outback adventure it provides.
Lasseter Region Annual Report Card 2022
Lasseter Region Annual Report Card 2021
Lasseter Region Summary DMP 
Lasseter Region DMP 

For further information please contact Tourism NT's Regional Planning team on [email protected] or 08 8951 8518.
Page last updated on 03 April 2023