New Visitor Experience Program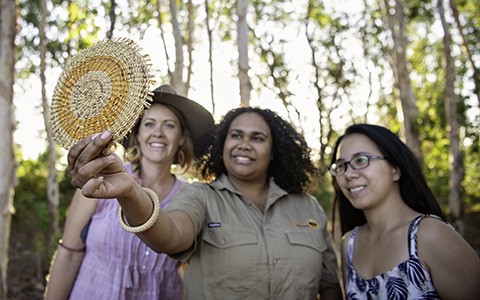 This program is now fully subscribed
The Northern Territory Government initiated a grant program for NT based tourism operators to deliver new tourism visitor experiences, providing $500,000 of grant funding in the 2019-20 financial year.

Part of the Territory Government's $2 Million Immediate Tourism Resilience Plan, the New Visitor Experience Program (NVEP) was initiated to support the Territory's tourism industry and operators to bounce back from the impacts of the Australian bushfires and coronavirus (COVID-19) crisis.
The grant program provided a much needed boost to the Territory's tourism industry with applicants required to provide a matching co-contribution and ensure projects are completed by the end of 2020.
Examples of awarded projects and activities include (but are not limited to):
Development of new tourism visitor experiences that diversify the tourism offering in the region
New or enhanced infrastructure upgrades to facilitate a new tourism visitor experience
Implementation of new technology to create a new tourism visitor experience in the NT.
NVEP Grant Recipients
Seventeen local tourism businesses across the Territory have received grants totalling nearly $500,000 from applications received in March 2020.
A total of $498,052.50 was awarded to recipients throughout the Territory with projects in Nhulunbuy, Darwin, Katherine, Tennant Creek and Alice Springs regions.
Grant recipients include:
Mataranka Roadhouse: Mataranka Roadhouse Bakery equipment, $14,068.10
Mini Melts NT: Establish Cheekies Party Bike Tours, $15,000
Daly Waters Pub: Daly Waters executive suites, $50,000
Finke River Adventures: Finke remote logistics, $50,000
Delta Enterprises: Upgrades to inner city motel, $50,000
Standley Chasm: Standley Chasm 4GX satellite small cell project, $17,000
ethical adventures NT: Litchfield Bush Camp for education tours, $9,000
Noonamah Tourist Park: Noonamah Tourist Park Motel family/group accommodation expansion, $50,000
Outer Edge Photography: Outer Edge Photography: Darwin VR The Evolution of Travel: Virtual Reality Guided Tours, $4,775
Gove Boat Club: Gove Boat Club campground kitchen, $12,567.50
Alice Springs Brewing Co: AS Brewing Co Tour Experience, $36,911.90
DIY Tourguide Australia: DIY Tourguide mobile application for Uluru Kata Tjuta National Park and Kakadu National Park, $15,300
Top of Town Cafe: Develop outdoor and evening dining/function capacity at Top of Town Cafe Tennant Creek,    $32,500
Crab Claw Island Resort: Crab Claw Island executive cabins, $50,000
Outback Caravan Park: Develop an in house dining capability, $39,000
Bradley Connor: Jet ski fishing tours on Darwin Harbour, $34,880
Katherine Regional Arts: Katherine Activation Application Development, $17,050
More information
For more information, read the New Tourism Visitor Experience Guidelines or please contact [email protected] or telephone 08 8999 3808.
Page last updated on 11 May 2022