Bruce Munro Tropical Light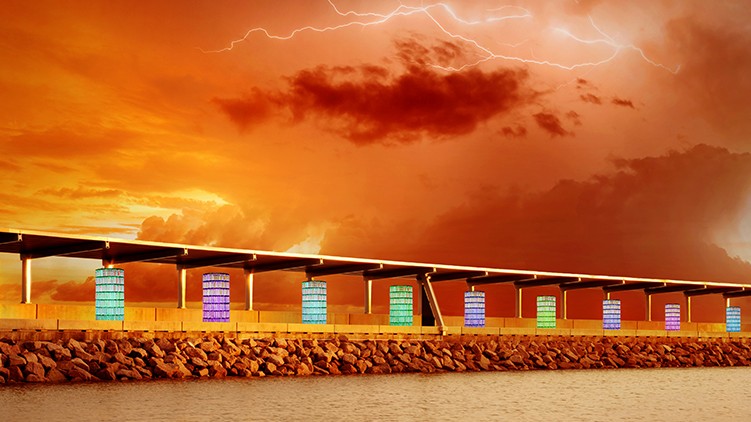 The NT Government presented a new exhibition in Darwin over the tropical summer months, Bruce Munro: Tropical Light.
The exhibition featured illuminated sculptures across a vibrant 2.5km art trail through the Darwin CBD by artist Bruce Munro, and ran from 1 November 2019 to 25 March 2020. 
Tropical Light was created to encourage more people to visit the Territory during the Wet Season and embrace our Tropical Summer as a vibrant, colourful and exciting time of year to visit. The exhibition attracted more than 46,219 attendances and more than 5,600 people downloaded the Tropical Light app to engage with artworks.
The illuminated sculptures were connected by a centralised self-guided path people could wander along, with each piece intended to inspire interest during the day and hold special significance when illuminated at night.

Thousands of people from all over Australia and the world came to look at the eight illuminated sculptures. Local artists were gained exposure by having their work included in the exhibition, and local businesses jumped on board by creating Tropical Light-themed products.
National campaign
Named 'Follow the Light', the first phase of the Bruce Munro: Tropical Light national marketing campaign created awareness and encouraged visitors to experience the world first city-wide exhibition and visit other iconic locations around the Territory.

This creative positioning aimed at interstate visitors created a broader promotion of what the NT has to offer and to explore our natural landscapes and tourism experiences across the Territory, including Bruce Munro's original light installation 'Field of Light'. The campaign was promoted through social channels, digital advertising and featured on News Corp Australia mastheads nationally such as news.com.au and The Australian digital editions.

The marketing campaign aimed at Territorians commenced in October 2019, leading in to the exhibition opening on 1 November 2019. A range of official marketing assets were provided to the local tourism industry and local businesses jumped on board by creating Tropical Light-themed products.
200 Club
Two hundred Territorians had the opportunity to volunteer for the world-class exhibition and raise funds for Territory families dealing with cancer.

Volunteers were sought as exhibition hosts, artwork minders and visitor engagement promoters as well as raising funds for CanTeen, to ensure visitors received an authentic warm Territory welcome.

Territory businesses and individuals sponsored Tropical Light volunteers, with every shift earning a $100 donation for CanTeen: a potential donation of $2,400 per volunteer and a total $480,000 across the program.

A public briefing was held in August 2019 to inform and seek the support of interested businesses and individuals. An auction was held at the event to register volunteers and secure the first donors.

There were three unique opportunities available:
SPARK – be the first to donate towards a volunteers time
GLOW – you, your friends, your business could donate towards the volunteers required at an exhibit
ILLUMINATE – you or your businesses name could be in lights along with the 'Bruce Munro: Tropical Light 200 Club' by committing the most amount of volunteers at auction.

Funds raised continued to support services for Territory and South Australian families living with cancer.
Page last updated on 03 June 2020