Tourism NT's Top Insta Posts Unveiled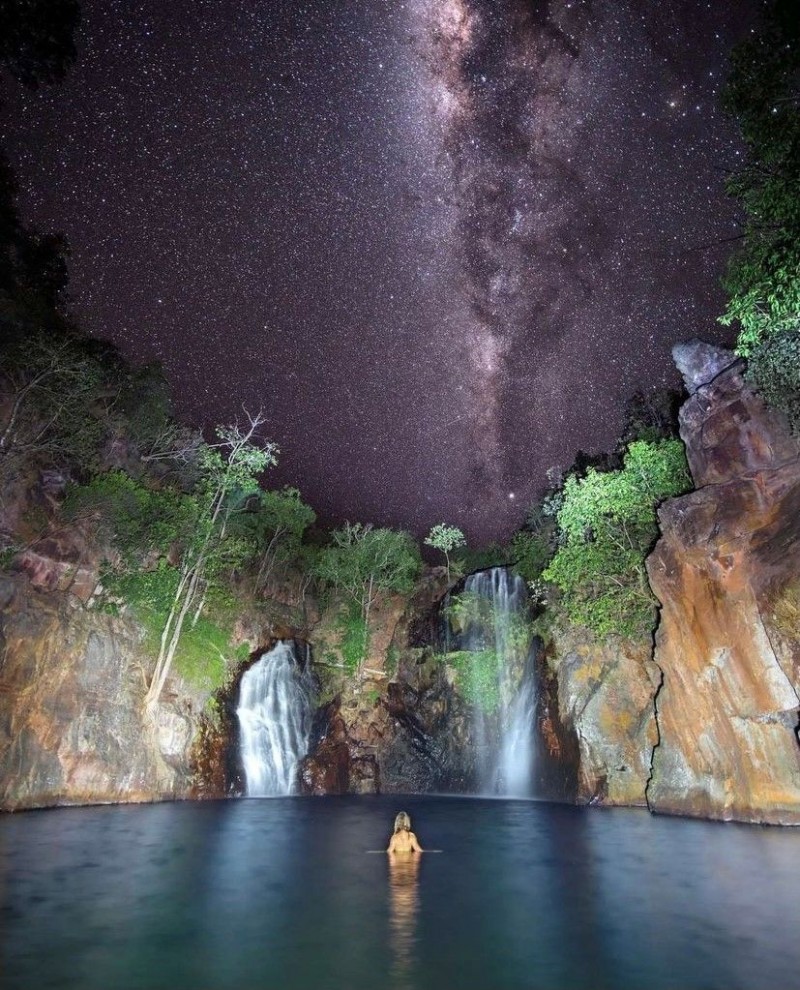 A pair of crocs swimming in Kakadu National Park exhibiting unique behaviour was the most popular post on Tourism NT's Instagram channel @NTaustralia for 2021. Also in the top 10 was this epic shot of Florence Falls by @all.about.adventure
The reel was captured by wildlife and travel photographer Sheree Jeldosev from @shot.by.sheree who tagged #NTaustralia with the caption "not so intimidating when they look like they're trying not to ruin their nail polish…"
Followers of @NTaustralia loved this entertaining reel so much it attracted more than 16,000 likes with more than 250,000 views to take out Tourism NT's top spot on the Top 10 most liked posts of the year.
Tourism NT's official social media accounts @NTaustralia have a combined following of more than 969,000 followers and are an important tool when marketing the Territory to both Australian and global audiences.
Territorians and visitors are encouraged to tag @NTaustralia and use the #NTaustralia on their holiday snaps, to give Tourism NT permission to regram.

Quotes from Sheree Jeldosev from @shot.by.sheree wildlife and travel photographer:
"I was lucky enough to road trip around the entire NT this year and the wildlife was incredible. We enjoyed stopping to photograph all the lizards and birds along the highway.
"Kakadu was definitely a highlight. We loved it so much that when we were halfway to Darwin, we turned the van around and spent another week enjoying it all again.
"I filmed this video when we were watching the crocodiles attempt to catch fish at Cahills crossing… I kept getting distracted by the antics of these ones, floating around. I hope that people seeing the video will change some perspectives of what we perceive crocodiles to be. It certainly made them endearing to me." 
Top 10 Most Liked Instagram posts on @NTaustralia in 2021:
 1.    Crocodiles in Kakadu National Park by @shot.by.sheree received 16,757 likes
2.    Bitter Springs by @hayleyslavin received 15,089 likes
3.    Katherine Hot Springs by @laplivin received 14,416 likes
4.    Uluru from the air by @rachlitravels received 13,789 likes
5.    Hideaway Litchfield by @ebony_wanderlust, @darwin_style and @maxandfaye received 13,513 likes
6.    Maguk Gorge by @haylsa received 13,416 likes
7.    Daly Waters Pub by @benroberts.co received 13,375 likes
8.    Rain at Uluru by @caitensphoto received 13,334 likes
9.    Florence Falls by @all.about.adventure received 12,032 likes
10. The Red Centre Way by @_markjeffrey received 12,002 likes
View the Top 10 Most Liked posts 
 
Page last updated on 20 December 2021