Territory Tourism Voucher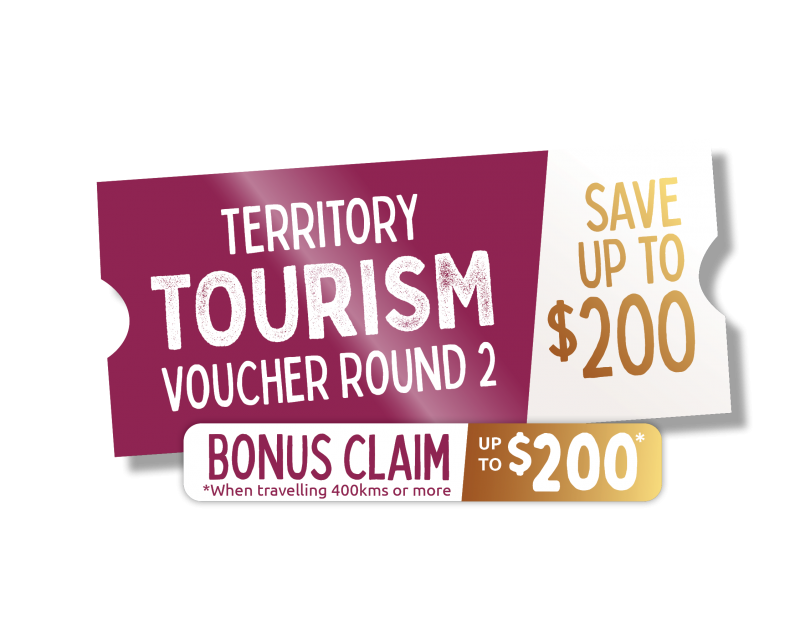 The Territory Tourism Voucher scheme is a $16.2 million package, offering Territorians aged 18+ a Territory Tourism Voucher worth up to $200 if they contribute $200 of their own money. 
Territory Tourism Voucher round 2 registrations will open at 8pm on Monday 2 November 2020. 
The voucher provides an incentive to support our struggling tourism industry and to experience our great Territory lifestyle by encouraging Territorians to purchase bookable tourism products.
How to register for round 2
Step 1 – Plan your holiday on one of the Visitor Information Centre websites, whilst you await the opening of registrations.
Step 2 – From 2 November at 8pm register for your Tourism Voucher (to be released in a staggered approach from 4 November) at www.territoryvoucher.nt.gov.au
Step 3 – Once you receive your voucher code via email, make your booking at a local Visitor Information Centre (in person or online) within 14 days (travel to be completed by 31 January 2021). Vouchers are valid for up to $200 based on a $1 for $1 investment.
Step 4 – Apply for your 'optional' bonus reimbursement claim (up to an additional $200 based on a $1 for $1 investment) for booking a travel experience 400kms from your place of residence. This step must be completed within 7 days of receiving your booking confirmation. This can be done at www.territoryvoucher.nt.gov.au/claim-my-bonus
Step 5 – Bonus claim reimbursements will be made to you by the NT Government after completion of travel, proof of travel may be required.
Find out more
Get involved - For operators
This stimulus for locals to experience the Territory's tourism products is an incentive to spend money with operators to assist you sustain your business. 
As a valued tourism industry member we encourage you to get involved:
Make sure your product, availability, pricing and business details are up to date with your local Regional Tourism Organisation. To become a member of Tourism Top End and Tourism Central Australia, or simply to update your products on Bookeasy, contact your RTO:

Tourism Top End:

[email protected]

or https://www.tourismtopend.com.au/ 

Tourism Central Australia: [email protected] or https://www.discovercentralaustralia.com/

Update your listing (through ATDW) on northernterritory.com. Find out how here
Package your product to include hospitality experiences (to reach the value of the voucher)
Download the campaign creative assets here which you can add to your website 
Update your own website with your available products and services 
Share the campaign creative and messaging on your social platforms and don't forget to tag #NeverHaveIEverNT, @NTaustralia, #NTaustralia, @tourismtopend, @visitcentralaus and your respective regional and business hashtags and handles
Download our FAQs for businesses and factsheet for businesses
Additional Rounds
Round 1 ($5.2 million) launched on 1 July 2020 - program complete.
Round 2 ($5.5 million) will launch on 2 November 2020 at 8pm.
Round 3 ($5.5 million) will launch on 1 February 2021 - program not yet open.
Find out more
How to get bookable
Page last updated on 02 November 2020