Nominations open for 2021 Brolga Northern Territory Tourism Awards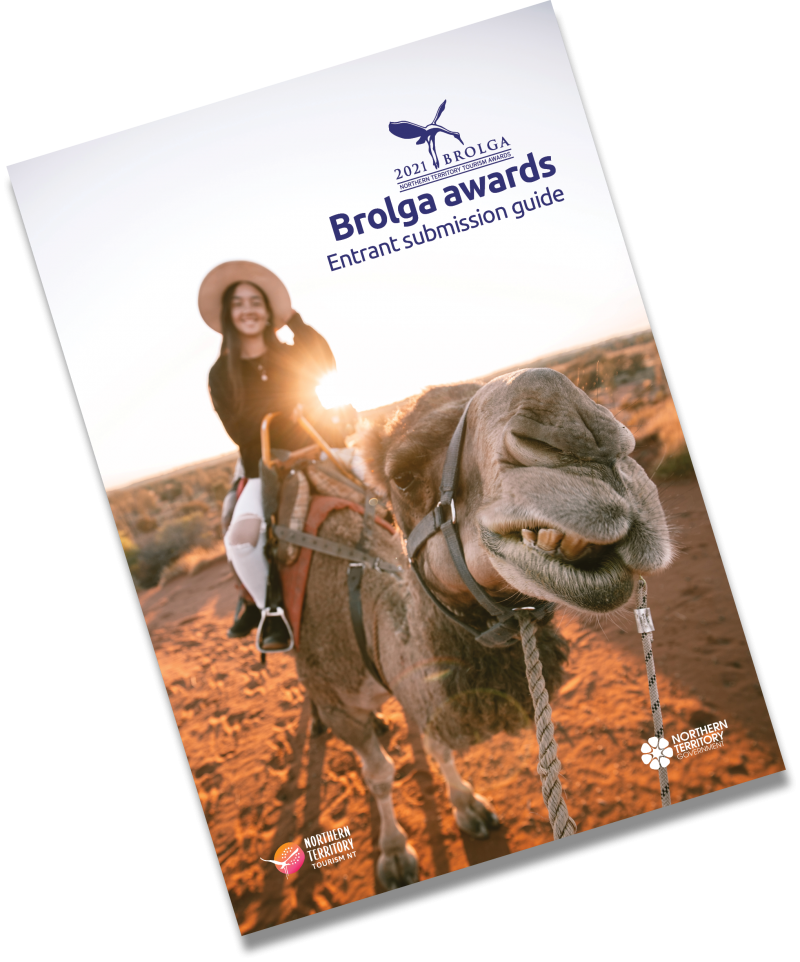 Nominations are now open for the 2021 Brolga Northern Territory Tourism Awards, the official tourism awards program for the Northern Territory.
There has never been a more important time to celebrate business innovation and resilience. 
The return of the iconic Brolga Tourism Awards in 2021 will see the best local tourism operators and experiences awarded.
Nominations are now open for the premier tourism awards, which includes 25 business categories and 2 outstanding individual achievements reflecting the diverse range of experiences across the Territory.
The NT Brolga Tourism Awards will recognise industry achievements from 1 July 2019 to 30 June 2021 due to the cancellation of the event last year, because of the COVID-19 pandemic.
Brolga award winners will have an opportunity to represent the Northern Territory at the Australian Tourism Awards gala event in early 2022.
For the first time, nominations will be judged based on a written submission, an online review of the business and an important addition this year the consumer rating, together these enable a holistic overview of the business achievements by the judging panel.
Nominations are free with entries due by 12pm, Thursday 9 September 2021.
The 2021 Brolga Northern Territory Tourism Awards premier night of nights will be held in Darwin on Saturday, 13 November 2021.
To enter or for more information visit brolgaawards.com.au
Quotes from Minister for Tourism and Hospitality Natasha Fyles:
"Tourism has been key to driving the Territory's comeback.
"The sector is made up of hundreds of small and medium size businesses, employs thousands of workers and injects millions into the local economy.
"The Brolga Awards, like our emblem, are iconic and gives outstanding Territory tourism operators a chance to shine on the national stage and mark their place in our tourism history."
Quotes from multi-award winning tourism operator Jim Smith of Sea Darwin
"Sea Darwin has won a number of Brolga's over the years and include the eco-tourism award in 2013, 2014 and in 2015 we nabbed both a Brolga Award as well as a Bronze in the Australian Tourism Awards.
"It's fantastic to have the business recognised and after a tough 12 months for our industry, I'm pleased to see the Brolga Awards return in 2021."
BACKGROUND
Key dates for the 2021 Brolga Northern Territory Tourism Awards program are:
-          Thursday 9 September 2021 – 12 noon – Final entries to be uploaded into awards portal
-          Friday 10 September – Friday 8 October 2021 – Judging
-          Saturday 13 November 2021 – Darwin Gala event
-          February 2022 – Australian Tourism Awards

Sea Darwin won the 2015 Australian Tourism Awards Bronze Award in Ecotourism and the following Brolga Awards:
-          Ecotourism 2013/2014/2015
-          Food Tourism 2015
-          Sustainable Tourism 2015
-          Chairman's Choice 2014
-          Excellence in Food Tourism 2019
Nominations and submissions are made via the QTF online system https://online.qualitytourismAustralia.com
Page last updated on 31 March 2021