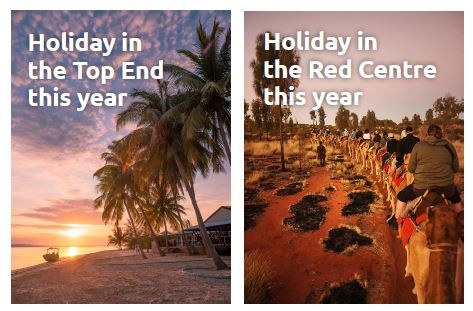 In response to the bushfire crisis impacting communities across the country, Tourism NT has fast-tracked its latest marketing campaign. The 'Holiday Here This Year' marketing campaign urges interstate travellers to put the Northern Territory on their holiday itinerary.
We want to showcase why the Northern Territory is the perfect place to enjoy a holiday this year, further leveraging Tourism Australia's campaign encouraging Aussies to holiday at home to support the local tourism industry.
We will do this by using images and videos showcasing why the Northern Territory's is truly unlike any place on Earth, it's a place where you don't just observe it, you feel it through every sense - supporting the new brand 'Different in every sense'.
Tourism NT is also creating videos with local operators promoting the 'Northern Territory is open for business, and so is Australia' on our corporate LinkedIn, Facebook and YouTube channels. We encourage you to share this message and create your own 'Open for Business' videos to share on your social media channels.
The 'Holiday Here This Year' campaign will be rolled out across print, socia media, billboards across major cities, content partnerships, radio and outdoor advertising, with Australians asked to demonstrate their support using the hashtag #holidayherethisyear and #NTAustralia.
For more information and resources visit www.australia.com/holidayhere
Download the toolkit, which has been developed to outline everything you need to know about the campaign and how to integrate it into your marketing.
It also shows our partnership with the local Regional Tourism Organisations, Tourism Top End and Tourism Central Australia, wh support their members by promoting intrastate travel and engage with Territorians to grow the visiting friends and relatives market.
Tourism Top End and Tourism Central Australia assets can also be downloaded;
Holiday Here This Year!
For further information email [email protected]
Page last updated on 14 February 2020