ATE21 - Alice Springs & Kings Canyon Highlights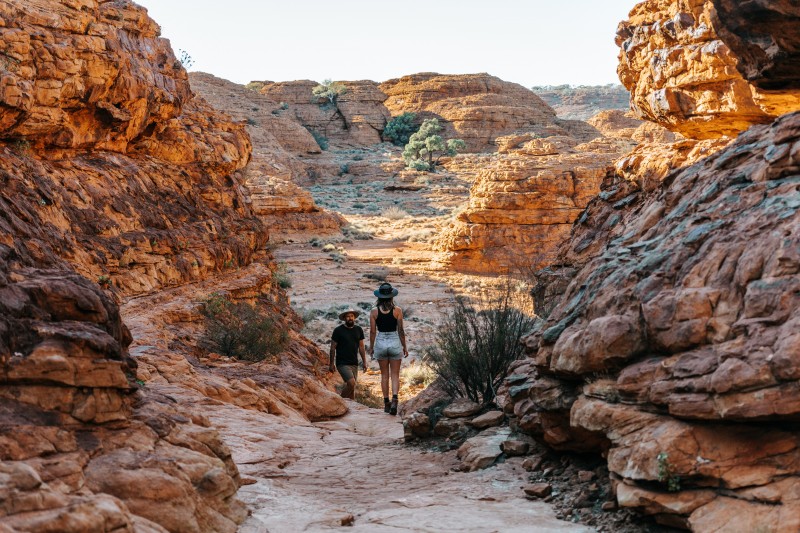 Alice Springs and Kings Canyon - 4 Nights, 5 Days
Familiarisation Description
Start your Red Centre adventure in Alice Springs – one of Australia's famous outback towns.  Known for its stunning natural wonders, pioneering history and adventure activities such as mountain biking, hiking and hot-air ballooning.  
After exploring 'The Alice' we hit the road to Watarrka National Park, home to Kings Canyon where we tackle the spectacular Rim Walk and watch the sun light up the dramatic 100-metre high walls of the canyon. Enjoy dinner under the stars, before retiring to your glamping tents for the evening. 
Return to Alice Springs the following day where you will be able to get up close with the iconic Red Kangaroo at The Kangaroo Sanctuary, before making your way to Sydney.
Below is a day by day breakdown of your "Alice Springs & Kings Canyon" itinerary.
All meals and snacks are included as part of this itinerary, at no extra cost.
Below are several flight options arriving into and departing from Alice Springs following this familiarisation.
Flights into Alice Springs – Wednesday 2 June 2021
Perth to Alice Springs
VA 712 / VA1741 0700 – 1410 (5H40M) VIA ADL
Adelaide to Alice Springs
QF1954 0615 – 0825 DIRECT FLIGHT
VA1741 1200 – 1410 DIRECT FLIGHT
QF1956 1325 – 1535 DIRECT FLIGHT 
 
Melbourne to Alice Springs
QF796 1130 – 1355 (2H55M) DIRECT FLIGHT
VA219 / VA1741 1010 – 1410 (4H30M) VIA ADL  
Brisbane to Alice Springs
QF505 / QF790 0710 – 1205 (5H25M) VIA SYD
VA1388 / VA1741 0845 - 1410 (5H55M) VIA ADL
QF663 / QF1956 1010 – 1535 (5H55M) VIA ADL
Sydney to Alice 
QF790 0925 – 1205 (3H10M) DIRECT FLIGHT
VA412 / VA1741 0915 – 1410 (5H25M) VIA ADL
Page last updated on 11 May 2021