Tourist hooks $10,000 fish in Top End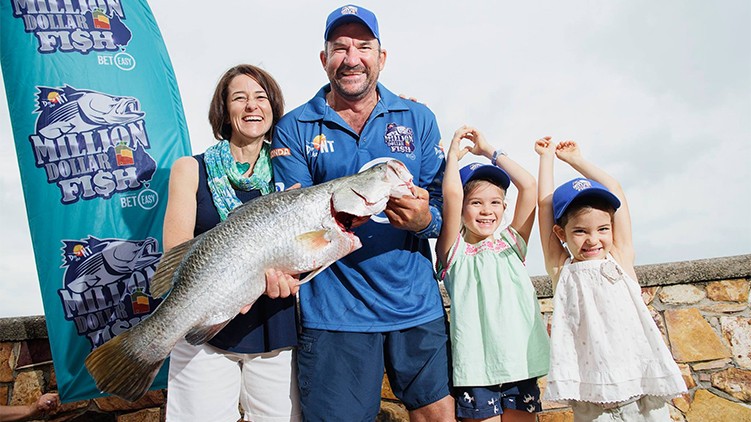 A tourist from Queensland is $10,000 richer after becoming the latest winner in the Million Dollar Fish competition.
Mark Iseppi was on a fishing holiday with his family when he reeled in the red-tagged barra at Daly River near the Mango Farm on Australia Day.
The whopping 86 centimetre barra is the biggest of the competition so far and the sixth catch of Season 4. With Territory anglers claiming all the prizes to date, Mr Iseppi is also the first tourist to net a winner.
"We came to the NT because we love fishing during the wet. When we saw the Million Dollar Fish tag we were pretty excited," said Mr Iseppi.
"I love the NT and it's the best place to fish. My family and I have come from Roma in Queensland to stay in Daly River for the wet season to enjoy the best fishing in Australia."
The Million Dollar Fish competition is a tourism initiative designed to lure more visitors to the Territory during the tropical summer and boost the Northern Territory's reputation as the best place in the world to stay, play and fish.
As at September 2018, an estimated 46,000 interstate fishos have come the Top End over the last two years, an increase of 6,000 on previous years.
Season 4 of the Million Dollar Fish competition was launched on 1 October 2018 and runs until the end of March 2019.
There are five chances at the $1 million fish, 95 of the $10,000 fish and 19 purple-tagged $5,000 charity fish still remaining.
To register, visit www.milliondollarfish.com.au.
Page last updated on 10 January 2020