Territorians can take up to $200 off a tourism booking with a Territory Tourism Voucher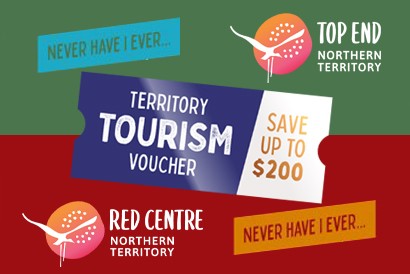 The Territory Government has announced a tourism voucher scheme to encourage Territorians to explore the Territory and support local tourism businesses until borders can safely re-open to interstate visitors.
More than 26,000 vouchers worth $200 will be available from 1 July 2020 for Territorians to put towards a tourism experience, tour, accommodation, hire car or recreational fishing charter, so long as they match the spend with their own money.
 
The $5.2 million voucher initiative is supported by a marketing campaign 'Never have I ever…' encouraging Territorians to book a local tourism experience they have never got around to enjoying themselves.
 
The voucher scheme has been developed in partnership with Regional Tourism Organisations, Tourism Top End and Tourism Central Australia.
From 1 July 2020, Territorians aged 18+ will be able to register and redeem their Territory Tourism Voucher. 
Voucher holders can book online, over the phone or in person through their local visitor information centres in Darwin, Katherine, Tennant Creek and Alice Springs.
Territorians are encouraged to register early as vouchers are limited. Vouchers are valid for 30 days only. Voucher bookings and travel must be completed by 31 October 2020.
The Territory Tourism Voucher scheme opened at 12.01am on Wednesday 1 July 2020 and all vouchers have now been allocated. 
Page last updated on 25 September 2020