New Bruce Munro light exhibition for Darwin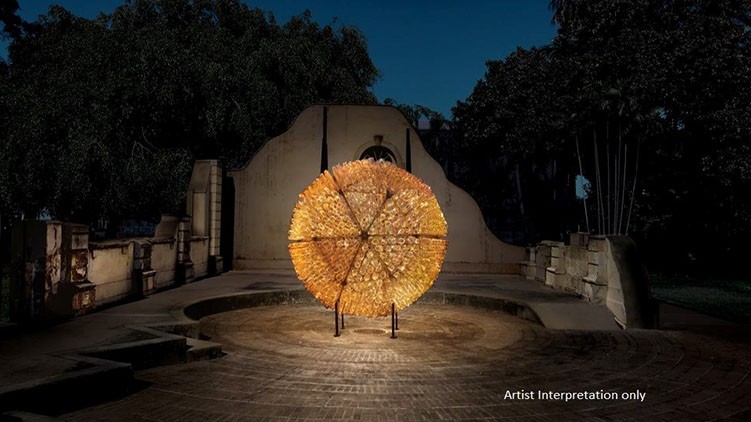 A new light exhibition by world-renowned artist, Bruce Munro, is expected to attract thousands of new tourists to Darwin.
The light exhibition titled, 'Bruce Munro: Tropical Light' will run from November 2019 to April 2020, attracting more visitors to the Top End over the shoulder tourism season.
It will be the largest Australian exhibition undertaken by Mr Munro, featuring eight immersive large-scale light installations through the Darwin CBD and Waterfront precinct.
The display will include collection of new and existing work that reflects Mr Munro's experiences in Australia and the Territory, including Darwin's natural beauty, distinct wildlife, welcoming locals and spectacular sunsets.
Mr Munro has exhibited his work across Europe, UK, United States of America and South Korea, generating strong visitation.
Since April 2016 his installation, 'Field of Light' at Uluru, has attracted over 250,000 people, with Jetstar attributing a 15 per cent increase in demand for flights to the exhibition, boosting total capacity out of Melbourne and Sydney to 50,000 seats.
Mr Munro said the opportunity to create a new exhibition for the Territory was a privilege.
"Every city has its own unique fingerprint and Darwin is no exception to the rule," he said.
"It is a very relaxed, cultural and culinary melting pot located at the top end of Australia between a vast tropical forest and an aquamarine coastline. Darwin is a veritable jewel that shines bright after each tropical downpour…it's a place of adventure and inspiration."
The new Bruce Munro Darwin light exhibition is part of the Government's $103 million Turbocharging Tourism stimulus package, which is investing in festivals and events that support improved livability, tourism and local jobs.
Page last updated on 10 January 2020