Mataranka Magic stars on Instagram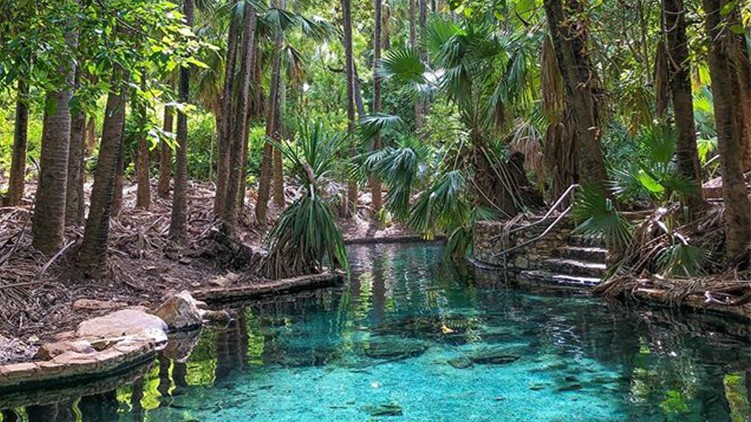 A photo of Mataranka Thermal Pools was the most liked image on Tourism NT's Instagram for 2018.
The photo received more than 8,300 likes to take out top spot on the Top 10 most liked photos of the year on @NTAustralia.
The tropical image was captured by local Darwin photographer, Mel Brautigam (@savvy_Social).
It was a big year for the Mataranka region, with an image of Bitter Springs liked by more than 1 million Instagram users around the globe after it was shared on the social media giant's official account, @Instagram, in July.
Uluru again proved popular on Instagram with six of the Top 10 most liked photos on @AusOutbackNT featuring the iconic destination.
Tourism NT's official social media accounts have a combined following of more than 758,000 and are an important tool when marketing the Territory to a global audience.
From the Top End to the Red Centre, the Territory offers an abundance of unique natural landscapes, attractions and experiences for today's Insta-traveller that will give them the ultimate brag-ability to all their friends.
Locals and visitors are encouraged to share their best Territory photos on Instagram with the hashtag #NTaustralia for a chance to be featured.
Top 10 Most Like Instagram Images on @AusOutbackNT for 2018:
Mataranka Thermal Pool by @savvy_social received 8,300+ likes
Uluru night sky by @bmillar.au received 8,300 likes
Kakadu road trip by @elisecook received 7,900 likes
Helicopter flight over Uluru by @shaun_jeffers received 7,500 likes
Uluru Field of Light by @kate_miles_ received 7,500 likes
Swimming at Maguk, Kakadu by @lisahnl received 7,200 likes
Rain waterfalls on Uluru by @chaseolearyphoto received 7,100 likes
Uluru storm by Kartikeya Sharma (via Facebook) received 7,100 likes
Helicopter flight over Kata Tjuta by @jasoncharleshill received 7,000 likes
Darwin storm by @c_a_s_s_a_n_d_r_a received 7,000 likes
Page last updated on 17 January 2020