Jimmy Shu's Taste of the Territory to premiere on SBS Food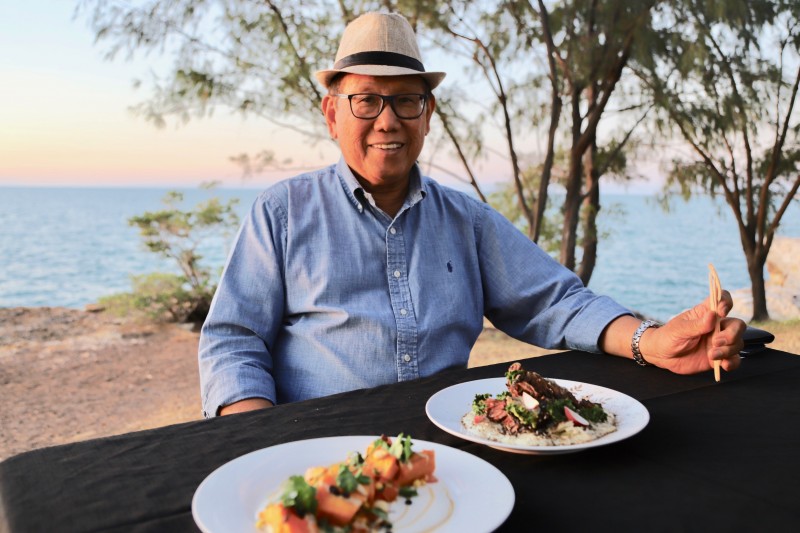 Local chef and restauranteur Jimmy Shu is hosting an exciting new culinary series showcasing the diversity and multiculturalism of the Top End.
A joint initiative between Screen Territory and SBS Food, Jimmy Shu's Taste of the Territory takes audiences on a journey to Darwin's famous markets to the landscapes of Kakadu, sharing the Top End's distinct food culture with the world.
Part travelogue, part food odyssey, part cooking show, Jimmy Shu's Taste of the Territory will showcase the kaleidoscope of culture and personal stories of local food producers and experts. Jimmy will lift the lid on the family recipes of Darwin's home cooks, taste the street food and local produce of the famous Darwin markets and delve into the amazing flavours of Indigenous bush foods. 
Over decades and across generations, a huge variety of migrants have made Darwin their home and contributed significantly to its unique culture and dining scene. Chinese, Vietnamese, Thai, Indian, Cambodian, Malay and Indonesian food are just some of the cuisines loved and eaten everyday by locals.
SBS Commissioning Editor for Food, Josh Martin, said: "We are thrilled to have partnered with Screen Territory to bring this gorgeous series to our audience. Taste of the Territory is cinematic in scale, and combines the raw natural beauty of the NT with the personal stories of the characters who make it such a special place. Jimmy brings his humour, warmth and incredible food knowledge to every frame."
NT Minister for Tourism, Sport and Culture, Lauren Moss: "Through Screen Territory, we are excited to partner with SBS Food to support this fantastic opportunity to showcase our multicultural and innovative food industry and outstanding local production talent with the rest of the country.

"We need to celebrate our talent and community strengths now more than ever. We're hoping the delicious recipes will entice viewers to try them at home and the stunning backdrops will remind people just how beautiful the NT is – so when they can visit the Territory again, they will.

"The NT Government has invested $200,000 towards the partnership as we recognise the importance in sharing our stories with the world and the significant contribution our vibrant and growing screen sector makes to the local economy."
Jimmy Shu's Taste of the Territory airs at 8.30pm on Thursdays on SBS Food and On Demand.

For more information and episode recaps visit: https://www.sbs.com.au/food/article/2020/03/30/episode-guide-jimmy-shus-taste-territory
Page last updated on 28 April 2020