Cruise ship season has kicked off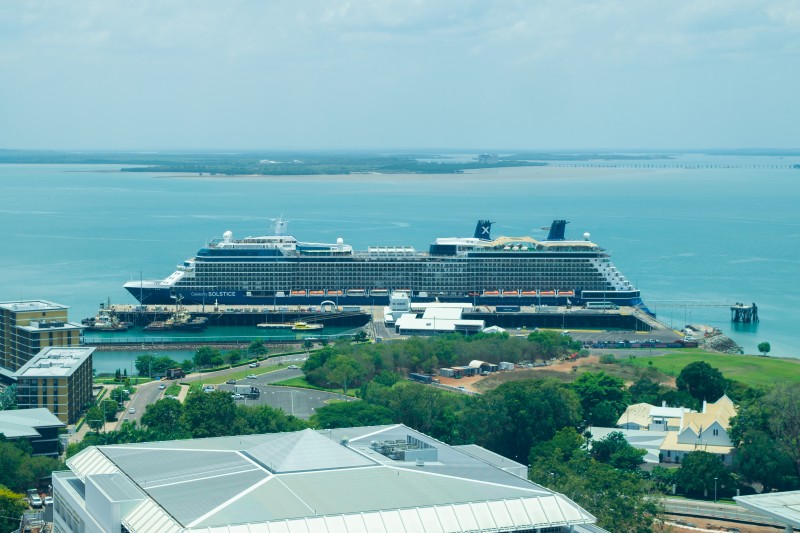 Cruise ship season has kicked off in the Territory with the first ship of the season arriving in Darwin Port last week.
The Celebrity Solstice arrived with 2760 passengers and 1170 crew from North America, the UK and Europe ready to explore our vibrant city.
Tourism NT's Sector Development Officer, Sam Waldron said local businesses were thrilled to see a boost in tourist numbers with many noticing the increase in international guests.
 "It was exciting to see our city buzzing with tourists spending on tours and with shopping retailers at the Darwin Waterfront, Darwin CBD and beyond," she said.
"This year's bumper season is expected to inject an estimated $65 million dollars into our economy and bring an estimated 45,000 visitors to Darwin in the traditionally quieter tourism months between October and April." 
Tina Stanley from the Tommy Bahama store in Darwin City said the Celebrity Solstice's arrival delivered their best day of trading for the whole month of October.
"What a great, fun day we had with the passengers," she said. 
"It was wonderful to have so much activity in the store and the Smith Street Mall again; these cruise ships really do deliver."
103 cruise and expedition ships are expected to visit Darwin throughout the 23/24 season, with a total passenger capacity of 60,000 people making it the Territory's largest cruise ship season yet.
Sarah Purcell, from the Top End Visitor Information Centre said 750 passengers engaged with the service on arrival to enquire about what's on offer in the NT.
"We were thrilled to see visitors chatting with volunteers at the cruise terminal and engaging with local tour operators who had set up a promotional stands at the entrance of the Visitor Centre," she said.
"Given that 85% were international guests, it was evident that passengers had a strong interest in embarking on tours and experiencing our native wildlife. All in all, it marked a positive and successful commencement to the cruise season."
Page last updated on 06 November 2023