COVID-19 Update - 72 hour lockdown for the Greater Darwin Region and Katherine Region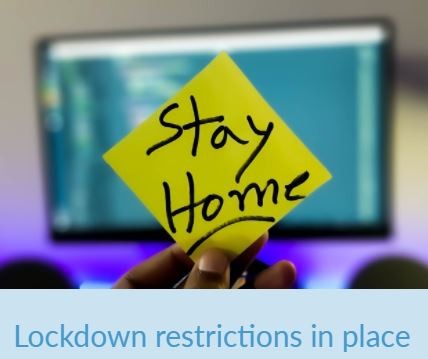 The COVID situation is evolving and as many of you would have seen this morning, the Security and Emergency Management Committee made the decision under the Northern Territory pandemic plan to lock down part of the NT community.
This follows confirmation of 1 new COVID-19 positive cases of a man in his 30's who travelled to the Northern Territory for legitimate work purposes on Thursday, August 12 after completing 14 days of hotel quarantine in Sydney.
 
Effective from 12 noon today, the Greater Darwin Region and Katherine Region will enter a full lockdown until noon Thursday 19 August.
 
That means the local government areas of:
•    City of Darwin
•    City of Palmerston
•    Litchfield Council
•    Wagait Shire
•    Belyuen Shire
•    Dundee
•    Bynoe
•    Charlotte
•    Cox Peninsula
•    Municipality of Katherine 
 
A map of COVID-19 lockdown areas can be accessed here.

PUBLIC EXPOSURE SITES 
There are 9 new COVID-19 exposure site identified in Darwin and Katherine regions. The situation is evolving and people are urged to monitor the COVID-19 Public Exposure Sites

People who have visited NT public exposure sites are defined as close contacts, causal contacts or low risk contacts and are required to follow a number of health directions including undertaking quarantine and getting tested.
 
It is important that all people in the Northern Territory check the COVID-19 website and review the list of public exposure sites to make sure you are complying with the health directions.
ARRANGE A COVID TEST
To arrange a COVID test, book online at coronavirus.nt.gov.au or contact the COVID-19 Hotline on 1800 490 484.
 
Please remember, you only need to get tested if you have:
•    Been to a COVID-19 public exposure site at the dates and times specified
•    Have been notified by contact tracers to get tested
•    Have any COVID-19 symptoms.
 
Keep monitoring information COVID-19 public exposure sites at coronavirus.nt.gov.au for further health directions about getting tested.
LOCKDOWN DIRECTIONS 
All people in the Greater Darwin Region and Katherine Region are required to stay in their home or accommodation during the lockdown.
 
Masks MUST be worn at all times when leaving home, including when undertaking any form of exercise. 
 
You can only leave your residence for one of these five reasons:
1. Medical treatment, including COVID testing or vaccination
2. For essential goods and services, like groceries and medications
3. For work that is considered essential and can't be done at home
4. For one hour of outdoor exercise a day within 5 km from your home with one other person who doesn't live with you, or people from your house
5. To provide care and support to a family member or person who cannot support themselves.
 
For further information contact the Lockdown Advice Hotline 1800 193 111.
BUSINESS SUPPORT 
A 24 hour hotline has been established to provide information about the lockdown arrangements 1800 193 111.  
STAY INFORMED
The risk of COVID-19 in our communities cannot be eliminated which is why it is important for everyone to follow all health directions and vaccinations for those eligible. Personal behaviour remains our best defence against COVID-19.
 
•    Book your COVID-19 vaccine
•    Check in using The Territory Check In App every time, everywhere
•    If you have symptoms, stay away from others and get tested for COVID-19
•    Wash your hands with soap and water and use hand sanitiser regularly
•    Do not go to work if you feel sick
•    Maintain a physical distance of 1.5 metres where possible
  
The situation around coronavirus (COVID-19) continues to evolve and this information is correct as at 12 noon Monday 16 August, 2021. For up-to-date and more information go to coronavirus.nt.gov.au
Page last updated on 16 August 2021