COVID-19 Borders Response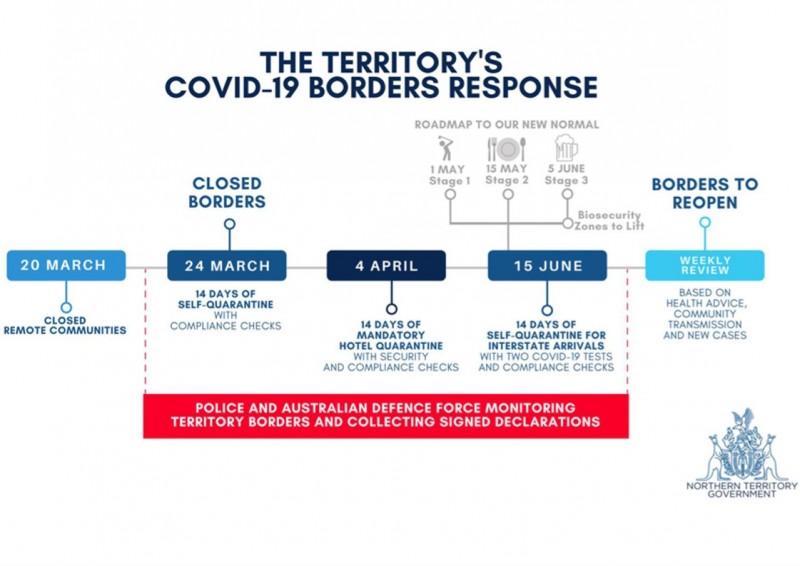 The Northern Territory is the safest place in Australia. Because of that, the Territory Government is making careful and considered changes to coronavirus related restrictions while still keeping Territorians safe.
From Friday 5 June, all NT businesses, facilities and services previously restricted will now be able to resume operations, ensuring adherence to key principles.

From Monday, 15 June, the Northern Territory will also transition from mandatory, monitored quarantine to mandatory, self-quarantine.

Arrivals will be able to choose their own quarantine arrangements – as long as it is appropriate, within the guidelines directed by the Chief Health Officer. People arriving in the NT will be able to undertake the 14-day quarantine period in their own home, in private accommodation, or in appropriate commercial accommodation, at their own cost.
The easing of measures is a critical step towards lifting border restrictions at a later date. When it is safe to do so the Territory will once again welcome visitors with open arms.
As Territorians return to the activities that make our lifestyle great, we must remember to encourage individuals and patrons to follow physical distancing principles, practice good hygiene and stay at home if feeling unwell.

We need to work together as a community to keep the NT safe. All businesses, facilities, organisations and service providers must complete the COVID-19 Safety Plan Checklist before 5 June, as we enter Stage 3.
We are the safest place in the nation, and we're incredibly close to being well and truly in our new normal.
Page last updated on 02 June 2020