Bruce Munro tropical light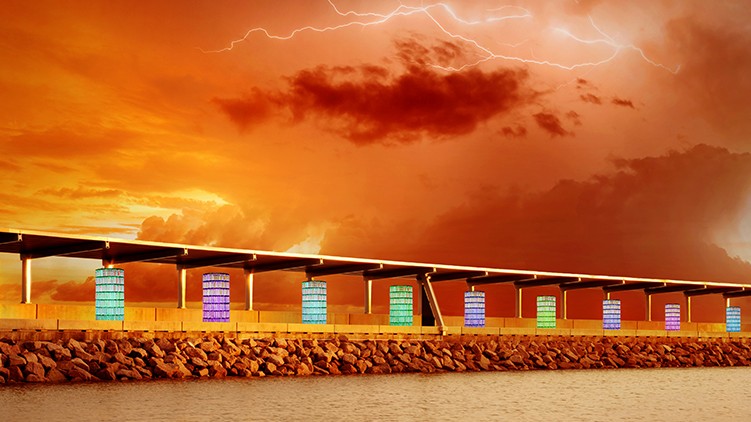 The NT Government has announced a new exhibition for Darwin, Bruce Munro: Tropical Light.
The exhibition will feature illuminated sculptures by Bruce Munro and run from 1 November 2019 to 30 April 2020.
The event aims to change the way people view the Wet Season in Darwin by encouraging them to embrace our Tropical Summer as a vibrant, colourful and exciting time of year to visit.
The illuminated sculptures will be connected by a centralised self-guided path people can wander along, with each piece intended to inspire interest during the day and hold special significance when illuminated at night. The path has been designed to allow local Darwin artists to have their work featured, creating a vibrant 2.5km art trail through the Darwin CBD that will also provide opportunities for local businesses to get involved.
How to Get Involved
Consider how your business, and it doesn't have to be a tourism business, can incorporate Tropical Light theming.
It could be art, lights, tropical colours, or something really creative.
Bundling or packaging a range of experiences provides a new way to promote your business. Can you value add your product to another, to grow both businesses? Or, for tourism operators, could you provide a nett rate to develop a commissionable product to be distributed through travel partners such as Holidays of Australia & the World and Tourism Top End?
Take inspiration from businesses and city CBDs that have leveraged other destination events such as Uluru's Field of Light, Albany's Avenue of Honour, Tasmania's Dark MOFO and Sydney's Vivid Festival.
Join a Tropical Light session with Tourism Top End and Distinctly Tourism Management to workshop product ideas and hear about what has and hasn't worked at Avenue of Honour.
Create your own signature tourism offering - Create a Tropical Light experience for your clients.
Workshop - Attend a workshop with Tourism Top End to brainstorm how to best leverage the event.
Access official marketing assets via dropbox - official promotional files can be provided to local Tourism Industry operators upon request. To access a range of assets you can use to promote your business alongside 'Bruce Munro: Tropical Light', please email

[email protected]

Businesses are reminded to please redownload the dropbox link to access any updated materials.
Social media - make sure you share your 'Tropical Light' packages on social media by using the official hashtags #tropicallight_darwin and #brucemunro, and tag @tropicallight on Facebook and @tropicallight.darwin on Instagram.
Communication - feature Tropical Light in touch points with your clients pre- and post-arrival. Add details on your website, in booking confirmations, in your lobby/venue/vehicle/vessel.
TripAdvisor Special Offer
Tourism NT in partnership with TripAdvisor are running a campaign to promote Tropical Light and bookable product in Darwin.
To include your Tropical Light hotel package on the 'Special Offers' page on Trip Advisor, see instructions here. Alternatively, if you have a ready product that involves Tropical Light you can list this on Trip Advisor and it will be featured/bookable on the dedicated Tropical Light page.
Contact [email protected] for assistance in listing your product or hotel package on TripAdvisor.
Industry Briefings
A number of industry briefing sessions have been held for tourism and hospitality operators, you can view here.
Product Development Mentoring
To create the best possible visitor experience Tourism NT is looking for dedicated tours and products to support Tropical Light.
This could be through connecting an existing tour product to the art trail, packaging accommodation with Tropical Light themed menu items, partnering with a restaurant, venue or additional supportive ideas.
Would you like assistance in developing your business' Tropical Light experience?
We are offering heavily subsidised mentoring to a limited number of tourism businesses at a cost of $200 to create their own Tropical Light product, which includes:
One on one sessions to workshop concepts
Price modelling and trade rate structuring
Assistance in copywriting, image selection and on-boarding in reservations systems
Assistance with collateral development and local marketing plan
Trade relations support with contracting negotiations for domestic wholesalers, ITOs and OTA accounts as needed
To express your interest in taking up this opportunity please contact Leanne Paige on [email protected] or 08 8999 6321. Allocation of mentoring support will be at the sole discretion of Tourism NT, to ensure a diverse product mix and appropriate outcomes for the region.
If you do have a Tropical Light product ready for sale and promotion please contact us so we can discuss distribution options.
More Information
Tourism NT
[email protected]
Tourism Top End
[email protected]
NT Major Events
[email protected] or call 08 8999 6625
Or visit www.tropicallight.com.au
Page last updated on 17 January 2020