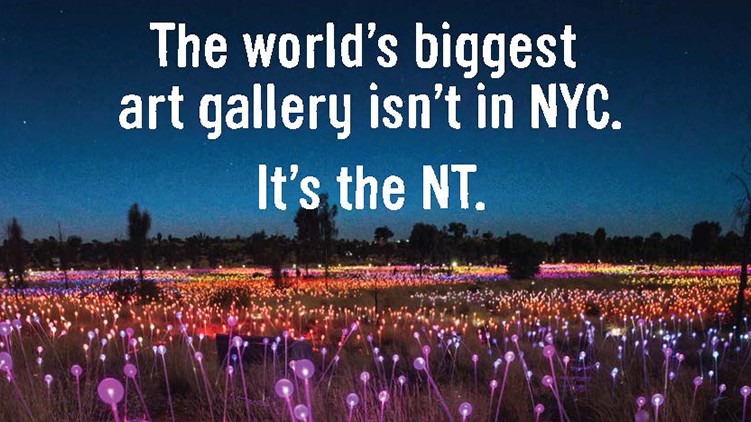 The Territory Arts Trail is a tourism initiative promoting the Territory as the premier global destination to visit for Australian Aboriginal art and culture.
The Territory Arts Trail is much more than just a map. It's about connecting the Territory's collective art and cultural attractions to create a rich, distinctive and unforgettable experience for visitors.
The campaign
The message behind the campaign is: 'The World's biggest art gallery is the NT'.
The first stage of the Arts Trail showcases tourism-ready arts or cultural experiences and attractions showcased to interstate and international audiences.
This includes art centres, events, Aboriginal rock art sites, commercial and public art galleries and cultural tours.
The advertising campaign includes bold and eye-catching imagery featuring the Territory's distinctive art and culture in high foot traffic locations in major Australian cities. Other advertising on digital and social media platforms will drive holiday makers to a new webpage: www.territoryartstrail.com
The new webpage includes itineraries and maps highlighting attractions, experiences and events right throughout the Territory as well as special offers to encourage bookings.
The main audience is 35-49 year old travellers who have a keen interest in Aboriginal art and culture and are seeking new and distinctive experiences.
The Arts Trail will also be promoted on Tourism NT's mainstream channels where possible to ensure a wide reach of Australians are made aware of our art and cultural offerings.
Get involved
Help us spread the word that the Territory is the premier global destination to visit for Australian Aboriginal art and culture.
If you are a Territory business or organisation in the arts, culture or tourism sector you can:
To request these marketing materials, contact us at [email protected]
To be featured on the Arts Trail, Territory arts and tourism businesses and organisations must meet specific criteria to ensure all experiences on the Arts Trail are of high quality, adhere to industry standards and guidelines and are considered "visitor ready".
To join the Territory Arts Trail arts business and organisations must have:
Completed the Arts Trail Checklist
Have 50% of product or experience arts related; OR
Have 50% of product or experience has an Aboriginal art or cultural focus.
Find out more
To find out more about how to get involved, download the Territory Arts Trail Campaign Fact Sheet here.
To request marketing materials or a Arts Trail Checklist, contact the Arts Trail team:
Ph: 08 8999 8981
Email: [email protected]
Page last updated on 18 May 2020