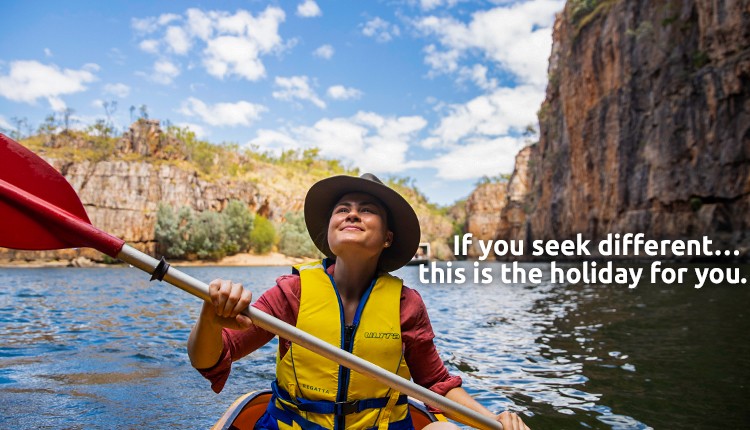 Tourism NT will launch an Australia-wide roll out of its domestic brand campaign from 28 February to 24 April 2021.  
The $2 million new awareness campaign positions the Northern Territory as a destination that's 'Different in Every Sense' with the aim to grow its share of voice in the domestic market by cutting through the advertising clutter and inspiring Australians to visit the Northern Territory for their next holiday.
The campaign 
The campaign essence 'Seek Different' is designed to resonate with the primary 50+ audience and secondary 25+ domestic travel intenders. 
Video assets will lead the campaign scheduled to air across Channel 9, Channel 10 and SBS, cinema, 9Now video on demand and digital channels including Facebook, Instagram, TikTok and YouTube.
A significant PR component is being launched in partnership with The Project and across major newspapers in all capital cities so that every Australian will know that in 2021 'if you seek different, then the NT is the holiday for you'.  
What does it mean to 'Seek Different'? 
We are all individuals, whether we're seen as couples, groups or even movements. 
We all seek to be different in our own way. 
Some of us do little things. Others, do bigger things. 
Because different reflects who we are and who we want to be. 
And nowhere lets you be who you are and find what you seek like the Northern Territory. 
You see, the Northern Territory isn't trying to be different. It just is. 
So if you seek different, then this is the holiday for you. 
The Northern Territory. Different in every sense.
The campaign call-to-action is: www.northernterritory.com 
Watch the Seek Different campaign video. 
Campaign partners
Tourism NT is working with Qantas and TripAdvisor as trade partners in the promotion of the campaign. 

A Qantas Points promotion and TripAdvisor sale will run throughout April. Both of these cooperative trade marketing activities will align key messaging and creative with the 'Seek Different' campaign. 
How to get involved 
Download the Industry Toolkit with a range of assets and key messages that you can use to share the message.
Use the campaign imagery – download here.
Use the campaign templates on your own marketing channels – download here.
Add a link to northernterritory.com to your website. 
Share the message on your social media using the hashtag #NTaustralia and tagging @NTaustralia
 
Page last updated on 01 March 2021