Roadhouse to Recovery Grant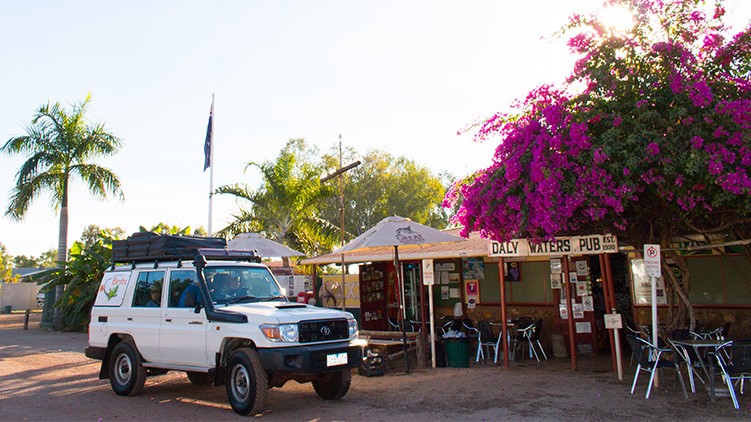 Budget 2021 has announced that the Roadhouse to Recovery grant program will continue, with an extension of the remaining $4 million commitment in 2021-22. More information will become available in the coming months.

Program details

One outcome of COVID-19 has been the substantial increase in the tourism drive market and the expectation is that this will continue to grow as more states open their borders.
Funding has been made available to assist wayside inns, roadhouses and caravan park operators to improve their visitor experience with grants of up to $150,000 in funding to support infrastructure improvements.
Families are a growing self-drive market, and infrastructure that supports families, such as play spaces, family cabins or rooms or baby change room amenities, will be welcomed as part of this program.
Improving amenities and experiences at roadhouses to encourage self-drive tourists to stay additional nights in the Territory, by providing capacity for additional accommodation between regional centres.
Open to wayside inns and roadhouses across the Territory. 
Applicants must submit a business case that includes:

clear identification/evidence of the customer experience 'problem', 'challenge' or 'gap' faced by business and how it might be improved
how the funding will resolve the challenge identified.

Applications are now closed and will be assessed on a competitive basis, with priority given to remote premises.
The NT Government will provide $3 for each $1 spent by the eligible business, up to a maximum of $150,000, for example, a $50,000 investment by a business can deliver a $200,000 upgrade. Priority will be given to projects from remote wayside inns and roadhouses who demonstrate the greatest need for visitor enhancement, as supported by evidence.

Download the Territory Small Business Roadhouse to Recovery Program Guidelines for further information. For more information on Budget 2020 including the Territory's Jobs First Plan, go to budget.nt.gov.au 
Timeframes
| | |
| --- | --- |
| Date | Activity |
| 19 November 2020 | Applications open |
| 14 January 2021 | Applications close - 4pm |
| February 2021 | Assessment of applications |
| February 2021 | Application outcome is communicated |
| 30 June 2021 | Projects are to be completed |

Grant Recipients
A total of 35 regional and remote wayside inn, caravan parks and roadhouse operators across the Territory have received $4 million in grants with 21 projects in the Top End and a further 14 in Central Australia.
Top End region grant recipients include:
Banyan Farm: Upgrades to ablution block and bistro areas $61,978.00
Bark Hut: 50 new powered sites, upgrading two existing ablution blocks, construct two new camp kitchens, twelve new accommodation units and installing a jumping pillow $150,000.00
Bitter Springs Cabins & Camping: Upgrades to camp kitchen and ablution block$134,986.20
Borroloola Hotel Motel: Upgrades to motel and public ablution block facilities $138,050.00
Corroboree Park Tavern: Upgrade and construction of new family accommodation facilities and upgraded security within the camping area $150,000.00
Daly River Inn: Upgrade and refit of the bathroom facilities including accessible facilities $80,316.72
Daly Waters Pub: Six family units including two with accessibility access $150,000.00
Dundee Lodge: Ablution facility rebuild $150,000.00
Emerald Springs Roadhouse: A new family cabin accommodation, children's playground and swimming pool $120,000.00
Hi-Way Inn Daly Waters: Redo the flooring in the bar area, increase dining space in the bar and expand the outdoor garden bar area $150,000.00
Litchfield Motel: Renovation of all accommodation room bathrooms $139,832.70
Litchfield Safari Camp: Family cabins upgrade $40,509.26
Mainoru Outstation Store: Upgrade of dining area, campground and family accommodation $120,000.00
Mataranka Roadhouse: Increase the footprint of the bakery area including an air-conditioned dining area $145,349.82
Point Stuart Wilderness Lodge NT: New children's playground and jumping pillow $53,498.00
Roper Bar Store: Build six new motel rooms with ensuites and new camp kitchen, install 10 solar power sites $117,133.27
Territory Manor Motel & Caravan Park: Upgrade restaurant bathroom facilities $60,183.27
Timber Creek Hotel: Install two new family cabins $120,000.00 
Top Springs Hotel: Family accommodation, camp kitchen, activity centre and amenity block $120,000.00
Victoria River Roadhouse: major renovation to the existing roadhouse including upgrade the kitchen to offer a larger family friendly and tour group cafe and dining area, create two new outdoor garden bars and a new amenities block $150,000.00
Wirib Store & Tourism Park: upgrades to accommodation, camp kitchen and shared amenities $115,961.68

Central Australian region grant recipients include:
Banka Banka West Station and Tourist Park: Upgrade decking on five cabins and refurbish new family style accommodation and commercial kitchen, installation of 12 powered camp sites $148,000.00
Barrow Creek Hotel: Accessible access ablution block upgrades, upgrades to outdoor dining area and access paths $120,000.00
Dunmarra Wayside Inn: Craft Beer Brewery plus Canning $118,402.20
Erldunda Roadhouse: Power upgrades to campsites and upgrades to café display equipment $83,212.80
Kings Creek Station: Power upgrade $120,000.00
Kulgera Roadhouse: Accommodation room upgrades $119,031.00
Outback Caravan Park: Increase dining area, install mini golf, add self-serve cooking area, improve security $150,000.00
Renner Springs Desert Inn: Refurbishment of motel rooms and swimming pool $120,000.00
Tobermorey Station and Roadhouse: Install two new family cabins $66,726.27
Threeways Roadhouse: Install three new family cabins and a new outdoor garden bar $150,000.00
Ti Tree Farm Garden & Ti Tree Food Barn: Install two self-catering air conditioned accommodation units $104,616.64
Ti Tree Roadhouse: Upgrade camp kitchen, install a children's playground and upgrade accommodation room verandas $74,388.60
Tilmouth Well Roadhouse: Accessibility and guest amenity improvements $37,822.67
Wycliffe Well Holiday Park (United Petroleum): Restaurant and shop floor retiling and replace ceilings, undertake pool upgrades and bathroom upgrades $120,000.00
 
Page last updated on 06 May 2021