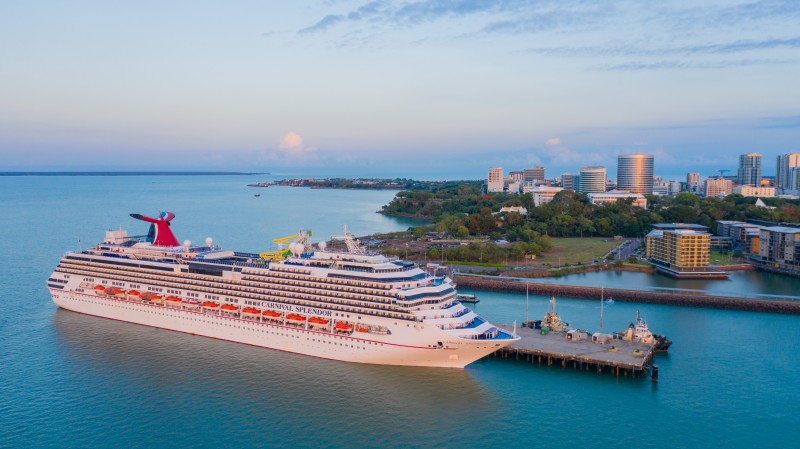 COVID-19 Update
Tourism NT is working with cruise stakeholders to closely monitor the cruise environment which is extremely fluid at present due to COVID-19. 
Darwin as a cruise destination
Darwin's geographic location and close proximity to Asia make it an ideal Australian gateway port for visiting international cruise ships.
With its tropical climate, Darwin enjoys year-round cruise activity, with larger ships visiting in the main season from October-March and a number of small, luxury expedition cruise ships using Darwin as a home-porting base to explore the remote Northern Australian coastline from April-September.

The purpose built Darwin Cruise Ship Terminal has the capacity for small-medium cruise ship home-base operations and has a proven record of handling the largest ships in Australian waters on transit visits.
Tourism NT is working to implement the Northern Territory Cruise Sector Activation Plan 2015-2020, to maximise the benefits of cruise shipping to the Territory. An updated NT Cruise Strategy is expected to be released by mid-2020. 
Tourism NT is working with the cruise industry to develop Darwin as a distinctive cruise destination as part of the NT's Tourism Industry Strategy 2030.

Download the new NT Cruise Industry brochure here. 
Darwin Cruise Study
The Darwin Cruise Ship Passenger study was conducted by Tourism NT and Tourism Research Australia during the 2014-15 season to capture information that provides a greater understanding of the economic value of the cruise ship industry to Darwin as well as the satisfaction of passengers and crew while they were here
Download the Darwin Cruise Study 2015 here.
Cruise news
During the cruise season, Tourism NT and Tourism Top End regularly report which ships will be arriving in Darwin and what their passenger loads are, so that tourism and retail businesses can maximise the opportunities presented by the resulting influx of visitors. For information on how to work with the cruise ship industry, please contact [email protected]
You can find the most up to date cruise ship schedule here (then click on "Cruise Ships" in the menu on the left of the page which opens up).
Commercial opportunities
The cruise sector offers a potential commercial opportunity for locally based NT operators in the Top End. Operators are encouraged to work with Tourism Top End, or establish relationships with the key ground handlers working with the cruise ships visiting Darwin.
The presentation below was made at an industry workshop in Darwin. It provides useful information on the cruise sector and outlines the key contacts.

View the Working the cruise market in the NT presentation here.
Page last updated on 08 May 2020