NT Summer Sale - Agent Incentive Program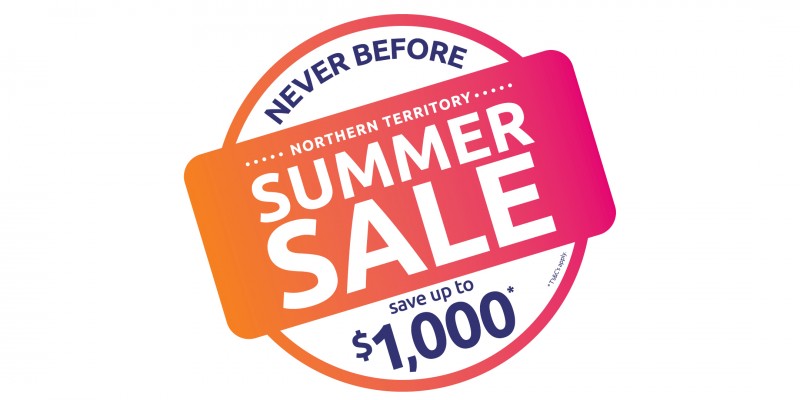 A summer sale like never before
This summer, your clients can holiday in the NT with never before seen savings available now.
Between 1 October 2020 and 31 March 2021, they can enjoy a $200 discount for every $1,000 spent on NT product, capped at a total savings of $1,000 per booking.
Plus, for every booking made, agents receive a $50 incentive, and for every five bookings made, an entry into a draw to win a place on an exclusive 'All of Territory' famil valued at over $5,500! For eligible bookings please see the booking criteria below. 
Summer sale campaign partners are Flight Centre, Helloworld/Viva Holidays and Holidays of Australia/NT Now, but all travel retailers can get involved.  To do so, please contact one of the wholesalers below:
•    Holidays of Australia/NT Now:
Simply make a booking via Holidays of Australia/NT Now
For queries, contact [email protected]
•    Helloworld/Viva Holidays: 
Contact Nicole Chapman [email protected] 
All NT products booked through campaign partners are eligible for the consumer discount, and agent incentive.  Your Head Office / Wholesaler will provide you with details on how to apply the rebates.  All bookings must be entered in the agent portal to receive the incentive payment. 
Register your booking
Each eligible booking must be registered via the Agent Portal to receive the $50 incentive and entry into the prize draw.
Visit the Agent Portal.
Register for a webinar
Webinars about the Summer Sale will be held throughout the campaign period. If you are interested in joining, please sign up to the Trade Training Program for more information.
A Summer Sale webinar took place on Thursday 8 October: View the webinar (MP4).
Booking eligibility criteria
Bookings must be made through one of our campaign partners: Flight Centre, Holidays of Australia / NT Now or Helloworld / Viva Holidays. 
All eligible bookings must be entered into the Agent Portal. Information must be entered correctly for booking registration to be eligible, and include:

Agency / wholesaler name
Agent full name 
Agent email
Agent business address 
Agent phone number
Booking number (must correlate with your agency's EOM sales reporting)
Passenger surname
Booking value (incl. GST)
Date of booking
Departure date
 

Bookings must be made within the campaign period of 1 October 2020 to 31 March 2021
Travel departure must occur on or by 31 March 2021
Must be valued at a minimum of $1,000 (inclusive of GST) before applied discount
Can include any bookable flight, accommodation, tour, attraction or hire vehicle inbound to, from, or within the NT
Must have a minimum of 80% of days booked in the NT (e.g. for a ten day AAT Kings tour, eight days must be in the NT. However, an exception would be a journey on The Ghan, where 60% of days booked must be in the NT)
Travel must have commenced for incentive to be paid
Intra-Territory travel by NT residents is eligible. Discounts will not apply to interstate travel components for NT residents. However, an exception would be a journey on The Ghan from Darwin to Adelaide, where a minimum of one pre-rail journey night is spent in a "staycation" in a hotel, so 60% of days booked would be in the NT
Available at participating travel agencies only.   
Prize details
Make five bookings to receive an entry into the grand prize draw of an 'All of Territory' famil, including an amazing rail experience on The Ghan. Valued at over $5,500 pp.
Every additional five bookings you make will receive an additional entry into the prize draw.
Famil prize will take place between 1 June – 31 December 2021. Tourism NT will, in its best endeavours, ensure all winners are available for the decided dates. In the event that travel restrictions are in place at this date that prevent travel, the famil must be taken within six (6) months of all travel restrictions being lifted in jurisdictions between the prize winners and the Northern Territory
The prize will include return flights to the NT from the winners' closest Australian capital city, meals, transport, accommodation and activities during the famil period
Spending money is not included
The grand prize will be drawn on 30 April 2021. Ten names will be randomly selected as winners 
Prize is valued at up to $5,500 per person (AUD).
SA Licence No: T20/1212
More information
For more information about the NT Summer Sale campaign, download the FAQs or email [email protected]
Page last updated on 14 October 2020