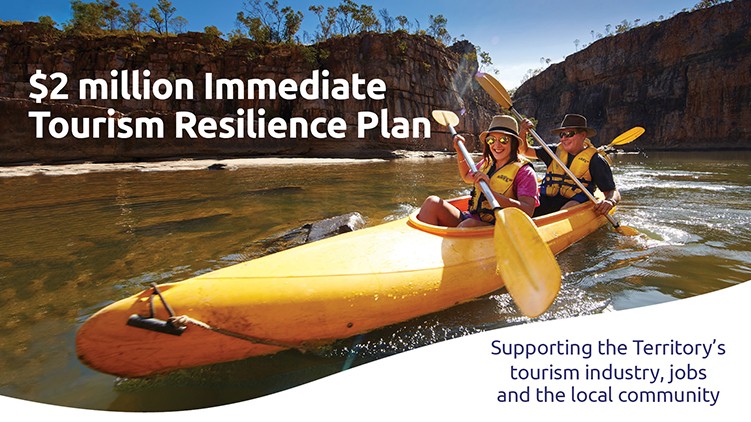 The Northern Territory Government announced the $2 million Immediate Tourism Resilience Plan to minimise the impacts of the Australian bushfires and the coronavirus (COVID-19) outbreak on the Territory's tourism industry.
The global COVID-19 outbreak has provoked major and disastrous consequences for countries and economies around the world. From the outset of COVID-19, tourism businesses were impacted by government imposed travel bans on international and domestic visitors. 
The Northern Territory Government's Tourism Resilience Plan redirected funding to targeted tourism marketing and industry initiatives aimed to help the local tourism industry respond to these crises.
Download a summary of the Plan.
The Plan
1. Industry program
Tourism Fast Track
Partnering with the former Department of Trade, Business and Innovation and the Business Enterprise Centre NT, Tourism NT delivered the Tourism Fast Track Program; a new intensive support program addressing business survival, revival and growth. The confidential program focused on lowering tourism business expenditure and increasing revenue, to minimise the impact of the crises on the industry and to maintain momentum in attracting more visitors to the Territory.
Tourism: Towards 2030 Conference and Power Up Tutorials 
The annual Tourism: Towards 2030 Conference, typically held in Darwin and Alice Springs in March, was cancelled in 2020 due to COVID-19. Tourism NT adapted the content by converting presentations into a 14 week webinar training series called Power Up, aimed to support businesses during the shutdown period. Developed through the Business Enterprise Development Program and delivered in partnership with Tourism Top End and Tourism Central Australia, the series covered topics particularly relevant to navigating the challenges of the COVID-19 pandemic to help tourism businesses build skills, plan for recovery and develop their business toolkit.
New Visitor Experience Program 
The Northern Territory Government developed a new grant program via the Visitor Experience Enhancement Program to support Territory based tourism operators to deliver new tourism visitor experiences. The New Visitor Experience Program required a matched funding co-contribution and saw a total of $498,052 in funding awarded to 17 New Visitor Experience Program recipients across the Territory, with projects in Nhulunbuy, Darwin, Katherine, Tennant Creek and Alice Springs regions.
Increased Education Tourism Rebate Incentive
The Tourism NT educational rebate 'NT Save and Learn' offers an increased incentive from $1,000 to $3,000 to schools who book a tour in the Northern Territory between September 2020 to March 2021. This incentive aims to attract more educational tourism trips during the 2020-21 financial year.
2. Partnership Program
Value-add with local and national organisations targeting the drive market
Specifically targeted at the drive market, the free partnership program 'Key to the NT' was established calling on both local and national tourism businesses to showcase some of the many Territory attractions available to visitors through a self-drive adventure.
3. Business events program
Doubled NT Business Events Support Fund Incentive
The incentive amount offered through the NT Business Events Support Fund was doubled to $200 per delegate for eligible applications for events staged by 30 June 2021. Twenty successful applications were supported through the increased incentive, resulting in an estimated $8.9 million in delegate expenditure for the Territory economy, with the potential to attract 3485 delegates should all events confirm for the Northern Territory.
4. Destination marketing program
Time to be a Territorian
Tourism NT developed the Time to be a Territorian intra-Territory campaign in partnership with Tourism Top End and Tourism Central Australia to mobilise local travel and support. The campaign was the first step in a planned marketing approach to support the local tourism sector while NT borders remained closed. Following the Northern Territory Government's announcement that biosecurity restrictions were to be removed from Friday 5 June, the campaign supported NT businesses to plan, and take forward bookings.
Territory Tourism Voucher
The Northern Territory Government announced a $5.2 million Territory Tourism Voucher scheme to encourage Territorians to explore the Territory and support local tourism businesses until borders were able to be safely opened to interstate visitors. Tourism NT launched the incentivised travel campaign 'Never Have I Ever' to support the redeemable voucher offer, with matched dollar-for-dollar funding of up to $200 towards bookable Territory tourism experiences. The first round opened on July 2020, with the Northern Territory Government announcing a further two rounds over 2020-21.
Tourism Australia partnership 
In February 2020, Tourism NT aligned its national brand campaign featuring Tourism Australia's Holiday Here This Year messaging and implemented a range of new initiatives including:
High impact disruption TV, radio, national press and digital advertising featuring cooperative partner deals 
Regional press advertising featuring cooperative partner deals.
Tourism NT has also leveraged Tourism Australia's One Voice programs to maximise exposure for the Northern Territory; including the initiative 'Live from Aus', an online video series encouraging people to continue dreaming of holidays in Australia through a specific 'Live from the NT' series which was promoted via Tourism NT consumer channels.
Operator advertising opportunities
A range of
advertising opportunities
were created for operators to buy-in directly alongside Tourism NT marketing. Ultimately activity was paused due to COVID-19 restrictions and border closures, with adaptations made to Tourism NT's key activities.
Page last updated on 22 December 2020