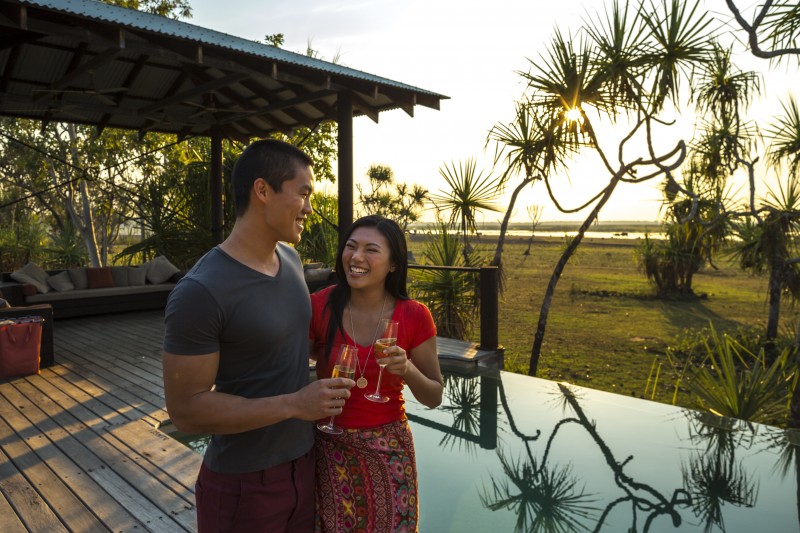 China is Australia's second largest inbound market for visitor arrivals and the largest market for total spend and visitor nights.
Since 2004, Tourism NT has had a presence in the China market, and in 2012 developed a China Market Activation Plan in collaboration with industry, with the goal of attracting 30,000 Chinese visitors spending $25 million by 2020.
The Territory attracted 18,000 Chinese visitors (including Hong Kong and Taiwan) in the year ending December 2017. To help reach this potential we have developed resources to assist operators learn about the Chinese market and how to adapt for this market.
Tourism NT has a range of support programs, resources and initiatives targeted at growing the China market to the Northern Territory.
China Ready Online Cultural Training
Tourism NT has partnered with a China customer and market specialist, China Ready & Accredited (CRA) whose CHINA READY® training program equips clients with cultural insights and understanding that are essential for successfully engaging with Chinese people. Their training also leads to Global Accreditation which shows Chinese customers you are a reputable business that will meet Chinese traveler service expectations.
The online training portal is free for NT based tourism, hospitality and retail staff. The training comprises of 12 cultural modules and three specialised tourism modules. Tourism NT encourages all NT businesses whose front line staff may come into contact with Chinese visitors to have them complete this accredited training.
Register for the China Ready Online Cultural Training here.
Business Level Accreditation
Once a business has staff complete the training, Tourism NT would encourage the business to consider Business Level 1 China Ready Accreditation. Further details of this can be obtained from [email protected] For any business who wishes to complete the Business Level 1 Accreditation, Tourism NT will cover the cost of the first years registration fee. Conditions apply.
Further information about China Ready & Accredited can be viewed here.
Welcome China Booklet
A helpful resource guide to assist the tourism, hospitality and retail sectors in the Northern Territory to Welcome Chinese visitors to the NT and ensure their holiday is a memorable one.
Donghai Airlines
Donghai Airlines will commence a twice weekly service direct from Shenzhen to Darwin on 30 May 2018.
For more information download the Donghai Airlines Fact Sheet here.
Mandarin Speaking Tour Guides
Tourism NT has partnered with Charles Darwin University and Parks Australia to conduct two on the ground training sessions for Mandarin speaking tour guides to enable them to complete their Kakadu Knowledge for Tour Guides certification.
A total of thirty five guides have now successfully completed the course and are available as freelance guides for NT businesses who are looking for guides to accompany their Chinese groups.  Please note that guides are based all over Australia.
Download the Mandarin Kakadu Tour Guides Contact List here.
Chinese New Year
Chinese New Year is one of the most important times on the Chinese calendar.  In 2018, Tourism NT partnered with several Top End organisations and businesses for a range of festivities to celebrate Chinese New Year in Darwin.
These events included:
Chung Wah Society Museum display in the Live Darwin Hub
Chinese lantern display in Smith Street Mall and Darwin Waterfront
Free Chinese cultural walking tours in Darwin CBD
Free shop decorations, basic language phrase handouts and posters for Darwin CBD businesses to advertise Lion Blessings
Partnership with Darwin City Waterfront Retailers Association to host cultural events in the Darwin CBD
If your business has an idea for an event that could be considered for 2019, please contact us here.
Translations and Basic Phrases
Learning and using a few common Chinese phrases helps build rapport with your visitors and makes them feel welcome. Tourism NT has also translated some useful place names in the Top End that businesses may be able to use to direct guests to popular hotels, restaurants and attractions.
If you have guests who wish to travel to NT National Parks or take tours to parks, brochures and maps been translated that you can print off and have ready for your guests.
Alice Springs Desert Park
China Ready & Accredited Businesses
China Ready & Accredited have conducted workshops in both Darwin and Alice Springs. Individual attendees who attained their certification were invited to complete Business Level 1 certification.
As at June 2018, there were 49 local businesses that have completed the business certification.
Download a list of Business Level China Ready Companies here.
China Fact Sheets
Chinese Market Fact Sheet – this fact sheet includes an overview of the Territory's target Chinese market, the value of Chinese visitors to Australia and the Northern Territory, and expectations and cultural considerations for the Chinese market, such as language and superstitions.
China Ready Checklist – this one-page pdf checklist will help you work through step by step what you need to do to become China ready.
UnionPay Fact Sheet – coming soon
More Information
Page last updated on 23 September 2020