Tourism NT is now inviting businesses to consider sponsoring the 2019 Brolga Awards.  
If your business would like to support the Brolga Awards in 2019, please contact the awards coordinator on [email protected] or download the 2019 Sponsorship Prospectus here.
Tourism NT would like to acknowledge the following partners for their support and contribution to the 2018 Brolga Northern Territory Tourism Awards.  Many of our partners have been long term supporters of the awards and we thank them for their continued support of the NT tourism industry.
9 News Darwin
Nine News Darwin is your local news leader. Always see it FIRST on NINE.
AAT Kings
Our goal, every day, is to share Australia and New Zealand with our guests, to bring Australia and New Zealand to life. We offer complete-package Guided Holidays, flexible Short Breaks and Half & Full Day Tours. Share you memories with us #smilekings
Airnorth
Australia's second longest serving airline, operating over 300 scheduled departures weekly to 20 different destinations.
@Australia.com
Tourism Australia is the Australian Government agency responsible for attracting international visitors to Australia, both for leisure and business events. The organisation is active in around 16 key markets, and activities include advertising, PR and media programs, trade shows and industry programs, consumer promotions, online communications and consumer research.
Hospitality NT
The Association works closely with a wide range of stakeholders, providing leadership, advice and support aimed at ensuring the prosperity of all involved in hospitality and hospitality-related businesses.
Business Enterprise Centre NT
Free support and advice for those who want to start a business, expand a business, buy or sell a business.
Colemans Printing & Signage
Since 1952 Colemans Printing has been the industry leader in graphic design and commercial printing in the Northern Territory.
Carlton & United Breweries
Carlton & United Breweries (CUB) is one of the most iconic beer companies in Australia with a history dating back to 1824.
China Ready & Accredited
Capture understand and effectively drive Chinese consumers to your business. A global accreditation service that identifies products and services that Chinese consumers can trust.
@CrocCandy
Croc Candy supplies premium, Australian made, hand-crafted candy for shops, corporate events, weddings, parties and fund raising. Angus Copelin-Walters (8 years old) is the young owner and is on a journey to learn all about business.
Dreamedia Events
The largest and leading provider of entertainment and event technology in Northern Australia. We specialise in conferences and meetings including forums, AGMs, gala dinners and awards nights, fashion events, brand engagement, product and company launches, media events, exhibitions, trade shows and special events.
@Darwin Convention Centre
The Darwin Convention Centre is a boutique world class centre in the spectacular tropical capital city of Darwin. The Darwin Convention Centre is the spectacular centrepiece of the picturesque Darwin Waterfront Precinct. This beautiful resort-like setting along with warm tropical weather and a leisurely ambience enables delegates to relax and focus on the conference agenda at hand.
Deloitte
As the largest professional services firm in Darwin, Deloitte's office is perfectly located in the heart of the central business district. Deloitte provides premium business advisory, tax management and risk and assurance advisory services to diverse industries and organisations across the top-end of Australia, including Katherine, Gove and Kununurra, with recent expansion into Asia and East Timor.
@NT.DTBI
The department provides free, confidential business information services to new and existing tourism businesses in the Northern Territory. Tourism business development officers work with businesses across the Northern Territory to identify and help address business and industry needs, and provide appropriate advice and assistance to access various business development programs.
Imparja Alice Springs
Imparja is a free-to-air television broadcaster with its signal sent out across the vast viewing area, broadcasting from 28 transmission towers as well as more than 20 remote towns who retransmit the signal on low-watt transmitters.
@GreatSouthernRail The GHAN
Experience Australia by train with Great Southern Rail's Great Australian Train Journeys. Enjoy some of the world's greatest train journeys on The Ghan, Indian Pacific and The Overland. World class rail journeys allow you to discover Australia by train from coast to outback.
@HospitalityNT
The primary objective of the AHA (NT Branch) is to uphold and promote the quality, integrity and reputation of the hospitality industry. Association that represents hospitality business located in the NT, including pubs, accommodation hotels, clubs, restaurants, cafes, wayside inns.
Northern Territory Parks & Wildlife
The Parks and Wildlife Commission is responsible for the care, control and management of 87 parks and reserves throughout the Northern Territory, Australia
Qantas
Founded in the Queensland outback in 1920, Qantas has grown to be Australia's largest domestic and international airline. Qantas is widely regarded as the world's leading long distance airline and one of the strongest brands in Australia.
Skal International Darwin and Alice Springs
Skål is a professional organisation of tourism leaders around the world, promoting global tourism and friendship. It is the only international group uniting all branches of the travel and tourism industry. Its members, the industry's managers and executives, meet at local, national, regional and international levels to discuss and pursue topics of common interest.
Treasury Wine Estates
Treasury Wine Estates (TWE) is a unique global wine company with a leading international portfolio of new world wines.
Tourism Tribe
If you are in the tourism business then Tourism Tribe is your one stop shop for anything digital.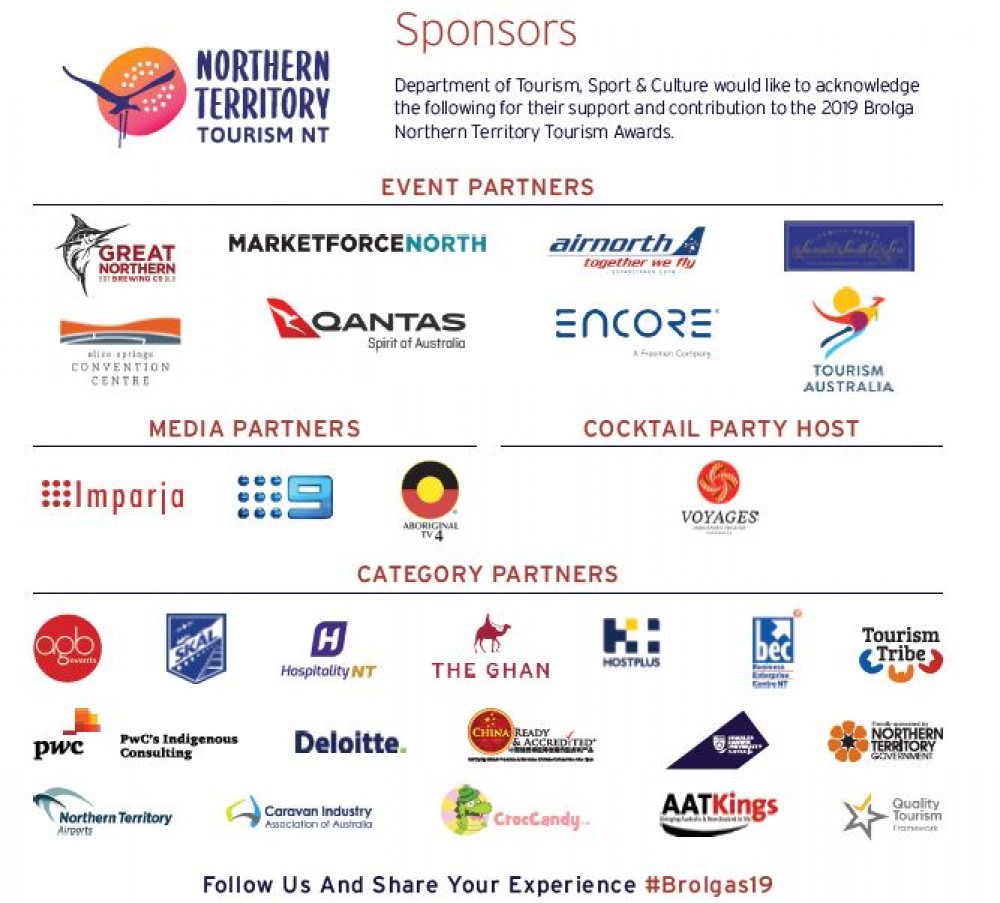 Page last updated on 30 December 2019